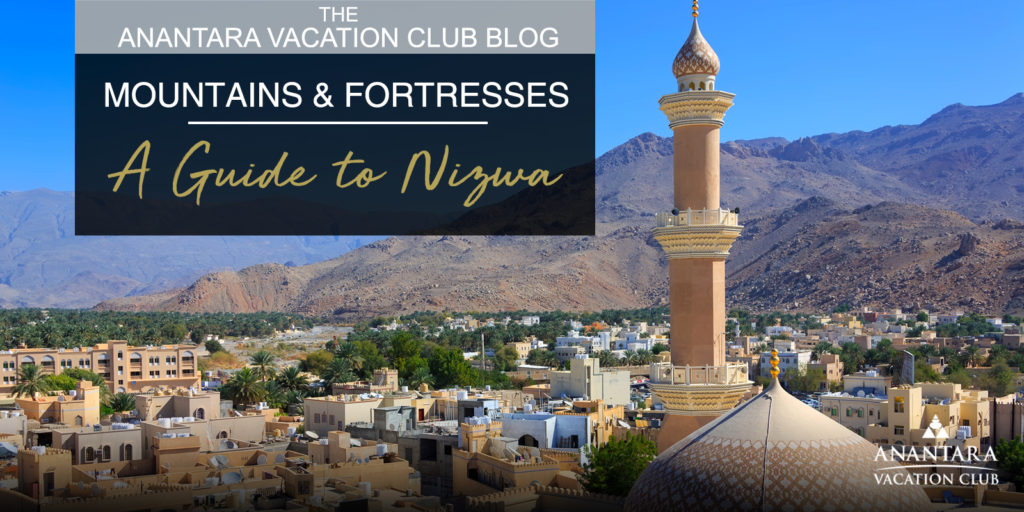 One of Oman's oldest cities, Nizwa was once a centre of religion, education and art. Today it is the second most popular place for tourists to visit when they travel to Oman due to its ancient fortresses, beautiful handicrafts and sweet smelling mountain roses. Wondering what you can do to pass the time when you stay in this ancient city? Here are some of our favourite things…
Nizwa Fort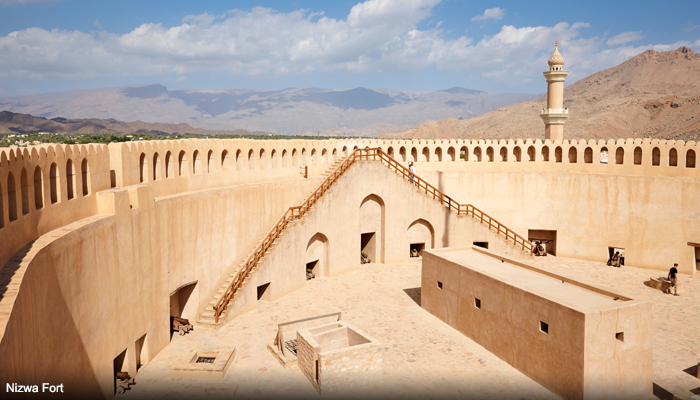 This impressive fort was built back in the 17th century by the first imam of the Yaruba dynasty – Sultan Bin Saif Al Yaruba. With its 40 metre tall round tower and impenetrable walls, Nizwa Fort was originally designed to protect the imam and his army against enemy attacks. The round tower is now the ideal place to take pictures of the nearby mountains and surrounding date plantations. Climb up the symmetrical staircases inside the main courtyard to catch views of the neighbouring Nizwa Souq and livestock market.
Nizwa Souq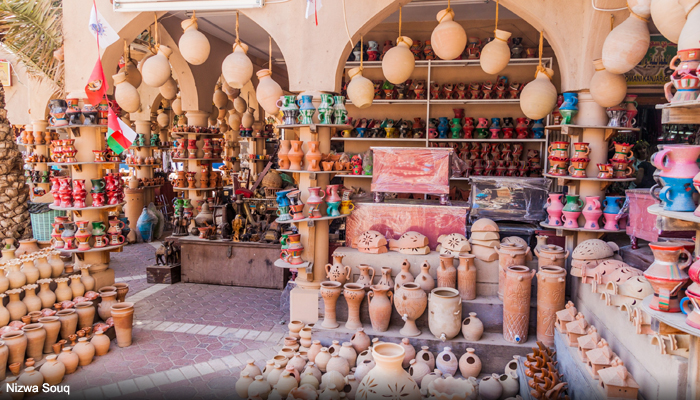 To get a good idea of everyday life, head to Nizwa Souq – one of the oldest marketplaces in the country – where you'll find locals buying fruit, vegetables, meat, fish and spices each morning from 6am. The market shuts around lunchtime when people break to eat and pray – then reopens in the evening until late. Apart from the largest range of fresh dates you'll ever see, the souq also sells textiles, pottery, antiques and jewellery. For a true spectacle, time your visit for a Friday to see the weekly goat market where white-clothed men and black-cloaked women buy and sell jittery livestock under the hot Arabian sun.
Jabreen Castle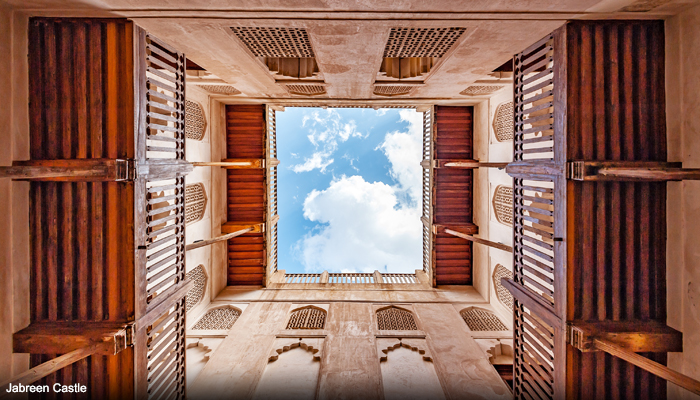 If you only have time to go to one fort while you're in Nizwa, Jabreen Castle is the one we'd recommend. It has been beautifully restored and gives visitors a real sense of life back in ancient times thanks to a large collection of period artifacts. Our favourite section of the castle is the "Sun and Moon Hall", a special reception hall for important guests with 14 windows and an intricately painted ceiling. Bahla Fort is south of Nizwa and its history dates back further than Jabreen Castle but it's by no means as impressive.
Green Mountain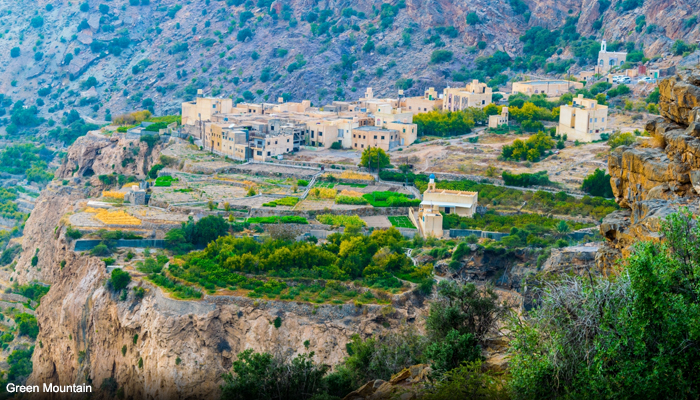 If you love nature, make sure you add Green Mountain (locally known as Jebel Akhdar) to your 'must see' list. This limestone peak is one of the highest points in Oman and is at the centre of the Hajar mountain range. Spring is the ideal time to explore Green Mountain when its summit is covered in Damask roses. These sweet smelling flowers are plucked by farmers, distilled in mud ovens and then boiled in copper vessels to produce Omani rose water – highly prized throughout the region for its unique smoky ash fragrance. You'll also find plantations of pomegranates, walnuts, apricots and peaches on the mountain as well as honey bee hives. The only way to explore Jebel Akhdar is in a 4WD and the magnificent view from the top, as well as the enchanting villages along the way, will make hiring a vehicle well worth the effort.
Birkat Al Mouz Ruins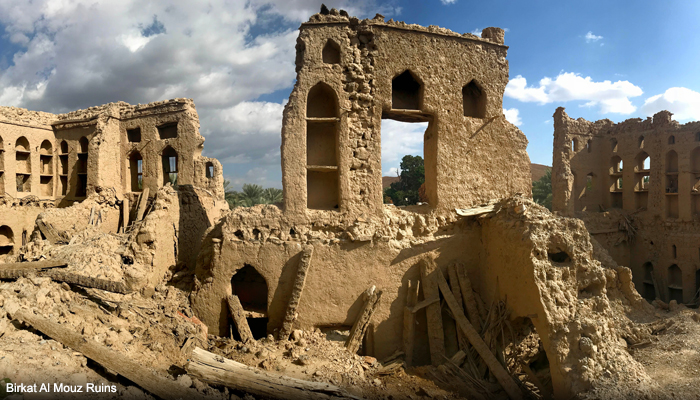 Not far from Jebel Akhdar, you'll find Birkat Al Mouze – a village of crumbling clay houses that date back 300 years. This site is definitely off the beaten path and you need to be careful as you walk around due to the dilapidated state of many of the buildings but if you can manage to navigate your way around, you'll get a true sense of how life used to be for locals in this area of Oman. You'll also see the ingenious irrigation system that was built centuries ago to bring water down from the mountains into the village.
Nizwa Pottery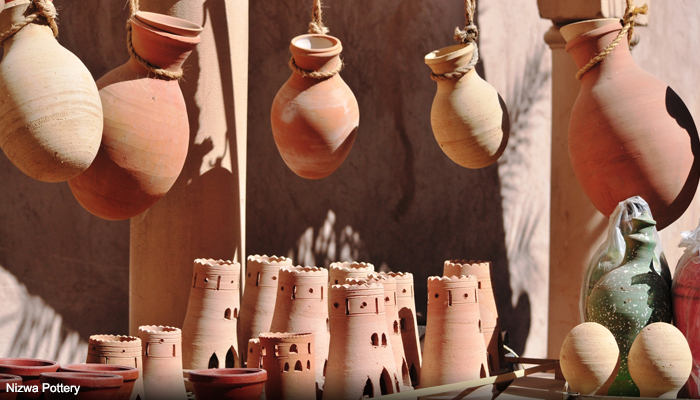 The city is famous for its pottery and if you're hoping to take home a special treasure from your trip, you should definitely consider buying a few clay vessels while you're in Nizwa. Almost every vendor inside the Nizwa Souq sells pottery in various shapes and sizes – from little oil burners to giant water pots. We love the hanging pots with braided ropes tied around them…perfect for displaying your favourite plants when you get back home! Even if you don't have space in your suitcase to buy any of the pottery, it's worth heading to the souq and taking photos of the beautiful craftsmanship that is on display.
Looking for More Travel Inspiration? Check Out Some of Our Other Blogs!
A Day Out in Dubai: A Guide to the Skyscraper City in the Desert
Bargains and Bazaars: The Best Places to Go Shopping in Dubai
Discover Our Newest Royal Escape in Oman
A Culinary Exploration of Dubai
A Road Trip Through the Deserts of Abu Dhabi 
Fulfilling Your Travel Bucket List With Our Royal Adventures Programme