Whether sailing the high seas or going where few others have gone before, our Elite Platinum and Elite Royal Club Points Owners never settle for anything but the best. With that mandate in mind, we continue to search the globe for experiences and adventures to add to our portfolio of Royal Adventures in order to allow them to write another scintillating chapter in their Anantara Vacation Club journeys.
From uncovering the ancient wonders of Angkor Wat in Cambodia to spotting the Big Five on a wild African safari, getting up close and personal with the revered Asian elephant in the hills of Northern Thailand, playing out your own version of Arabian Nights in the romantic Abu Dhabi desert and more…our selection of Royal Adventures allows you to explore the world to the fullest.
Let's take a look at some of our favourites. Which bucket list travel experience are you hoping to add to your list?
ELEWANA SKYSAFARI
Long regarded as the ultimate travel destination, Africa offers some of the most rewarding experiences to new and seasoned travellers. In partnership with Elewana Collection, the SkySafari is a unique holiday offering a bespoke blend of incomparable game-viewing opportunities, luxurious accommodations and tailor-made moments. Each of the camps, lodges and hotels within the Elewana Collection has been carefully selected for its distinct appeal and iconic locations, providing close access to the enticing spectacle of African wildlife while retaining the utmost in comfort.
For 8 days and 7 nights, Elite Platinum, Elite Platinum Plus and Elite Royal Points Owners travel across Africa in style with our executive class aircraft, visiting the foothills of Kilimanjaro's sister mountain Mount Meru, marvelling at the magical tree houses in Tarangire, observing the rare wildlife in the Ngorongoro Crater, and soaking up the raw beauty of the Serengeti plain.
This Royal Adventure includes:
SkySafari air and road transfers
All internal flight transfers between Elewana Collection lodges and camps with the SkySafari Cessna Grand Caravan aircraft*
A 'Fast Track' check-in at Arusha airstrip on day of SkySafari
All road transfers to and from the Kilimanjaro International Airport, camps, lodges and airstripsIn order to ensure the highest levels of safety standards, the SkySafari Cessna Grand Caravan will be required to undertake scheduled and unscheduled maintainance works.
In both cases, SkySafari will provide alternate aircraft from a third party to undertake any and all flight commitments. In such an event, SkySafari cannot guarantee the same interior layout to that of our SkySafari Grand Caravan.
Overnight accommodation
Overnight stays at selected Elewana Collection properties as detailed in the 8-day SkySafari itinerary
A 'Fast-Track' check-in at Arusha Coffee Lodge
All meals and drinks (except select Champagnes, Cognacs, single malt whiskeys and wines)
WiFi in main areas of all lodges and camps
Laundry service 
Game drives
National Park and Ngorongoro Crater entrance fees
All game drives and road transfers including a professional driver guide in a shared Safari Land Cruiser maps, binoculars and reference books
Any bush luncheons, picnics and drinks taken as part of the SkySafari programme (excluding select Champagnes, Cognacs, single malt whiskeys and wines)
Medical Evacuation Cover
Medical evacuation cover is provided in case of accident or injury whilst out on safari with transfer to a treatment centre within Tanzania or, if necessary, to Nairobi, Kenya
THAILAND'S NORTHERN DELIGHTS
Experience the unique charm of Thailand's ancient Lanna Kingdom with a 4-night escape spent discovering the stunning mountain scenery, indigenous hill tribe heritage and creative contemporary culture of Chiang Mai and its neighbouring Chiang Rai.
Enjoy 2 nights by the tranquil Mae Ping River at Anantara Chiang Mai Resort, recognised for its distinct blend of modern design mixed with colonial style and traditional Thai touches. Explore the historic walled city of Chiang Mai, with its elaborate Buddhist temples and a thriving cafe culture. Discover the region's breathtaking national parks and picturesque lakes and waterfalls before visiting hill tribe villages, known for their long-held traditions and expertly made handicrafts.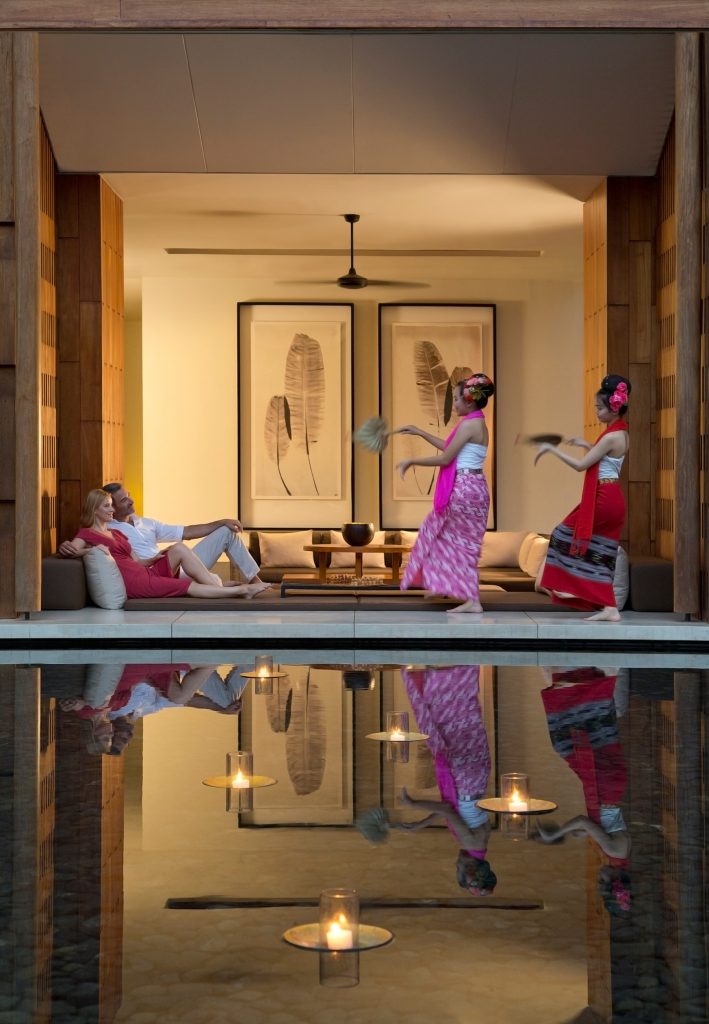 While at the resort, unwind in the exclusive Kasara Lounge or pamper yourself with a signature treatment at the inspired Anantara Spa.
Next, journey into Thailand's jungle – indulging in an all-inclusive 2 nights at the impressive Anantara Golden Triangle Elephant Camp & Resort which provides breathtaking views over Thailand and its neighbouring Myanmar, Laos and the mighty Mekong River.
In addition to one-on-one elephant excursions, experience the best of what the region has to offer with gourmet dining, cooking classes uncovering the secret recipes of Lanna cuisine, a private tour revealing the colourful character of the Golden Triangle region and relaxing in a hilltop retreat.
This Royal Adventure includes: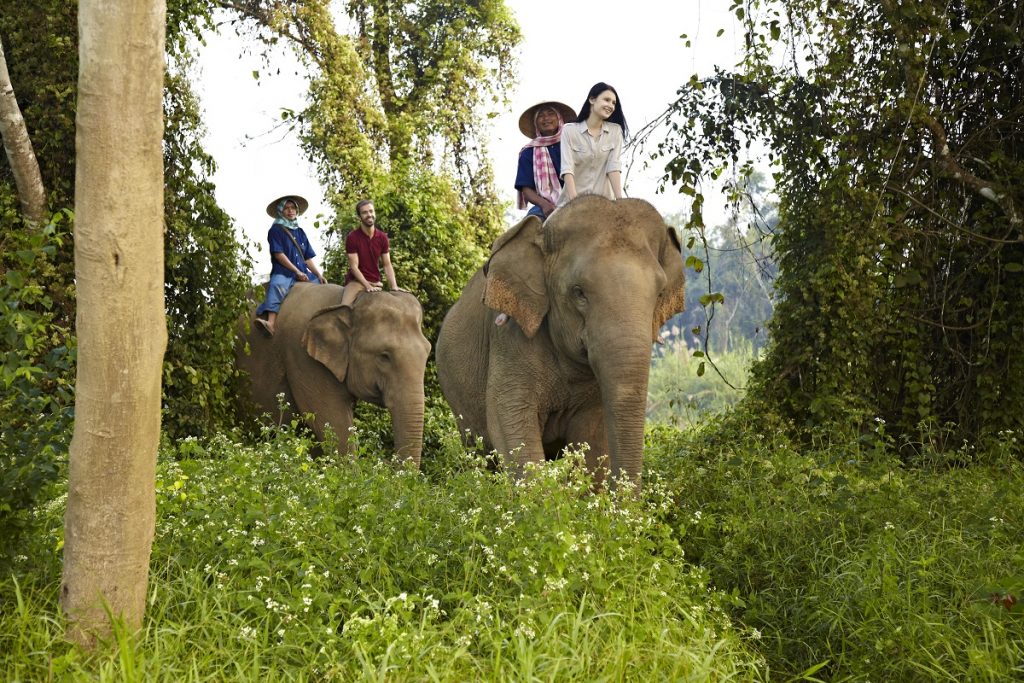 Chiang Rai:
2 nights' accommodation in a 3 Country View Suite at Anantara Golden Triangle Elephant Camp & Resort with Discovery Package for 2 people
Daily breakfast, lunch and dinner
Beverages (including non-alcoholic drinks, house wine, beer and spirits)
One-time visit to the Opium Museum
Your choice of 2 activities: Spa Treatment Packages, Elephant Camp Experiences, 3-Country Tour or Thai Cooking Class
Chiang Mai:
Airport transfer for 2 people
2 nights' accommodation in a Two Bedroom Suite at Anantara Vacation Club Chiang Mai
Daily breakfast
A 3-course set dinner (Drinks not included)
Half-day temple tour (Transfer, tour guide and entrance fees)
Street Guru City Tour (Transfer and tour guide)
Transfer between Anantara Vacation Club Chiang Mai and Anantara Golden Triangle Elephant Camp & Resort for 2 people
ARABIAN NIGHTS
Discover Abu Dhabi's majestic blend of iconic urban attractions and romantic desert tranquility with a combined 6-night getaway. Experience for yourself how the generosity of Emirati culture merges with Anantara's renowned Asian hospitality and personalised service to bring you a truly exclusive escape.
Spend 3 nights soaking in urban waterfront luxury at Eastern Mangroves Hotel & Spa by Anantara. This scenic city retreat overlooks a protected mangrove waterway and allows you to wake up to a spectacular breakfast buffet offering lush mangrove views. Once you've gathered your energy for the day, kayak with an experienced guide through a verdant maze populated by turtles, crustaceans and a variety of birds.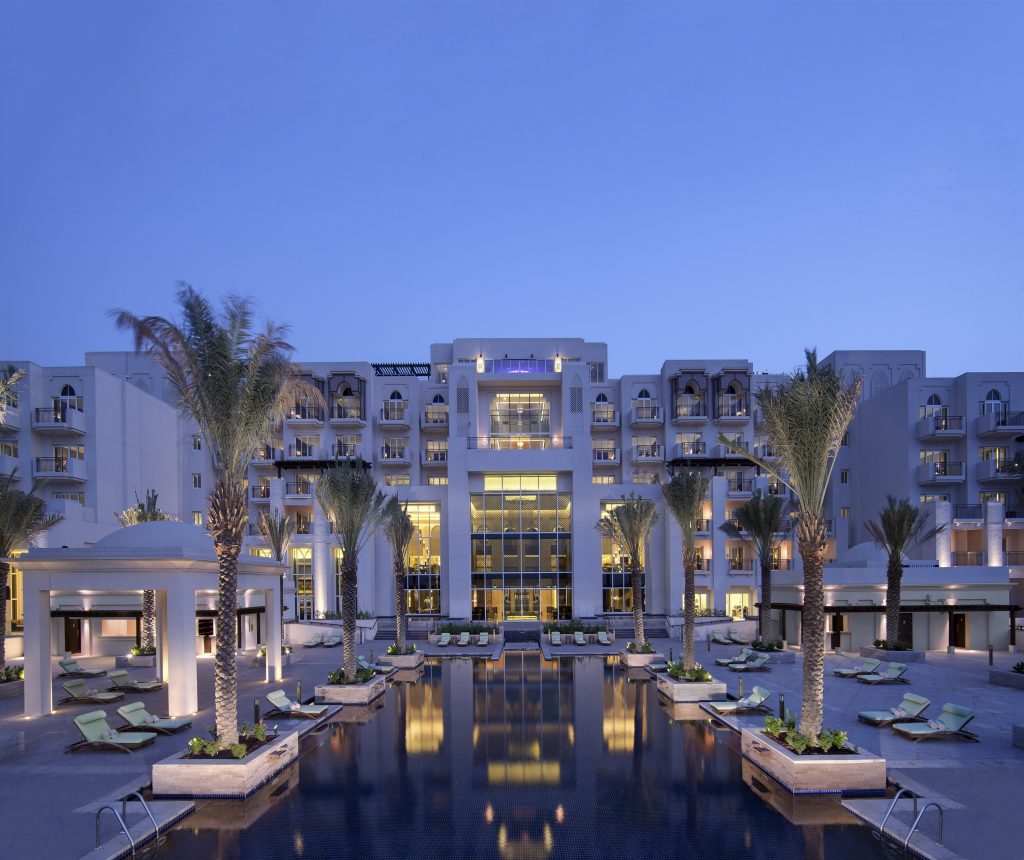 You'll also have the opportunity to explore the highlights of Abu Dhabi – including its Islamic architecture and impressive Grand Mosque – on a carefully crafted guided tour. Stroll through the infamous gold, date and oriental markets, then browse for traditional arts and crafts at a specialist handicraft centre.
Outdoor adventures are balanced by pampering at the Anantara Spa, with a heavenly Signature Massage that promotes complete wellbeing before moving on to your next destination. With the world's largest desert as your backdrop, take in the far-reaching views of shimmering sand dunes throughout your 3-night stay at Qasr Al Sarab Desert Resort by Anantara.
Unwind in a One bedroom Anantara Pool Villa at the end of the day, complete with a private plunge pool and personal butler service. Savour lavish breakfast buffets in preparation for captivating adventures, enjoying a choice of 2 signature activities to enhance your Arabian experience.
Trek through the desert on a camel at sunrise or sunset trek, feeling as though you've stepped onto another planet. Sports enthusiasts can try their hand at noble archery, while thrill seekers can traverse the towering dunes in an adrenaline-inducing 4-wheel drive excursion.
The choices continue with the option of sumptuous international meals and a Signature Massage at Anantara Spa, combining the expert touch of healing hands with a soothing desert panorama.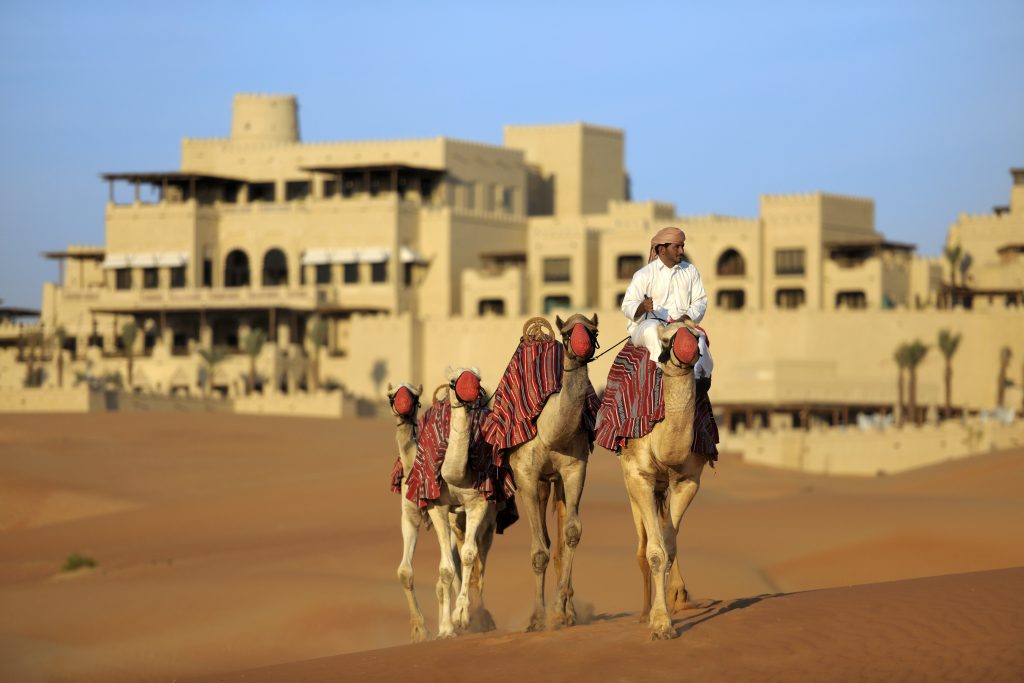 This Royal Adventure includes:
Eastern Mangroves
3 nights' accommodation in a Deluxe Mangroves Balcony room
Limousine transfer from Abu Dhabi Airport to Eastern Mangroves Hotel & Spa by Anantara
Limousine transfer from Eastern Mangroves Hotel & Spa by Anantara to Qasr Al Sarab Desert Resort by Anantara
Half-day city tour
60-minute Signature Massage at Anantara Spa
Qasr Al-Sarab
3 nights' accommodation in a One Bedroom Anantara Pool Villa
Limousine transfer from Qasr Al Sarab Desert Resort by Anantara to Abu Dhabi Airport
Daily buffet breakfast at Al Waha restaurant
A choice of lunch or dinner at Al Waha restaurant
2 desert activities from a choice of Sunset or Sunrise Desert Walk, Dune Drive, Camel Trek or Archery (each lasting approximately 1.5 hours)
60-minute Signature Massage at Anantara Spa
ROMANTIC KIHAVAH MALDIVES ESCAPE
Holiday in an exclusive sanctuary that sets itself apart – even in the magnificent Maldives. Indulge in a 3-night stay at Anantara Kihavah Maldives Villas, a once in a lifetime getaway that provides incredible style from beginning to end. Enjoy a VIP arrival service at the airport before admiring a bird's eye view of the turquoise Indian Ocean and tropical islands as you're transported by seaplane to a spectacular resort.
Here, luxurious villas each boast their own unique characteristics, some opening onto soft powdery white sands, others poised directly above crystal clear waters and many featuring a private plunge pool. Discover a watery world that feels like yours alone, cruising the dazzling Indian Ocean aboard our impressive 24-metre Ocean Whisperer yacht to explore deserted islands, hidden reefs and secret lagoons.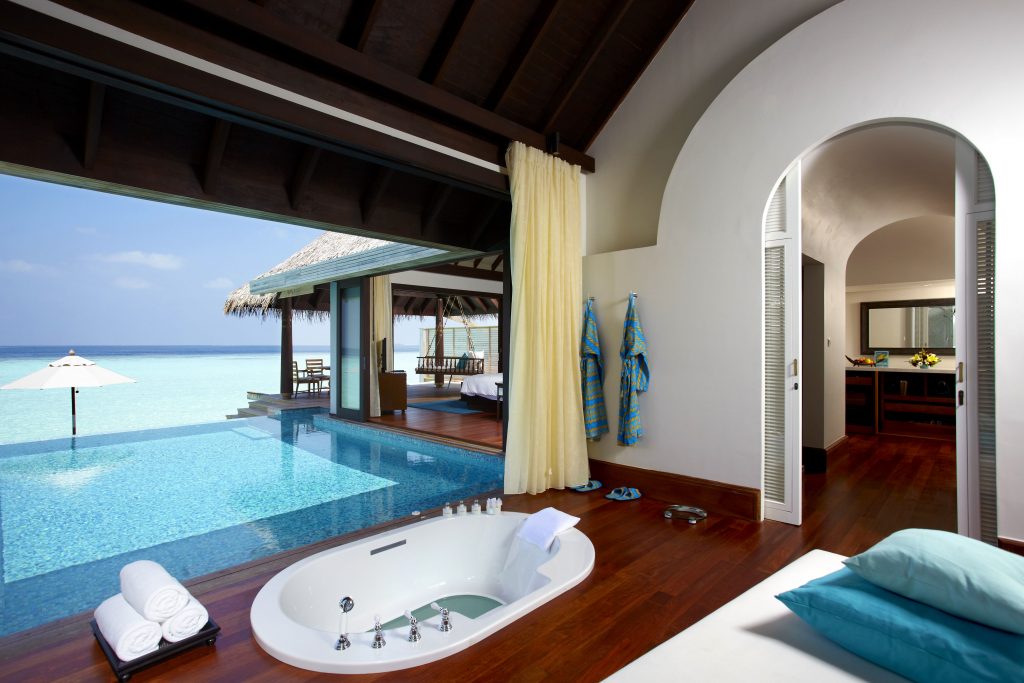 Dock at a private island to savour a decadent hamper, choosing from our collection of Dining by Design menus, before laying back on the sun-kissed deck and sailing into the sunset. For a memorable meal, descend to "Sea", an exclusive underwater restaurant and wine cellar – where only a circular glass wall separating you from eclectic marine life swimming all around.
Tantalise your palette with a sublime 4-course menu which offers a selection of connoisseur creations for each course, enhanced by impeccable wine pairings. Epic island romance unfolds as you view the classic film of your choice under a twinkling night sky. On soft white sands enclosed by lush foliage, recline on a daybed or swing in the hammock as you enjoy an assortment of gourmet snacks, sweet treats and refreshments, including wine and champagne.
Sweet dreams await as your in-villa Slumber Guru ritual begins with a relaxing oil massage and soak in a luxurious candlelit bath. Sip infused herbal teas or Italian Eraclea hot chocolate served with homemade cookies before sinking into a sumptuous bed dressed in 1000 thread count Egyptian cotton. Your personal pillow choice is sprayed with scented mist and accompanied by a silk or cool gel-filled eye mask and ear plugs, making drifting away a blissful pleasure.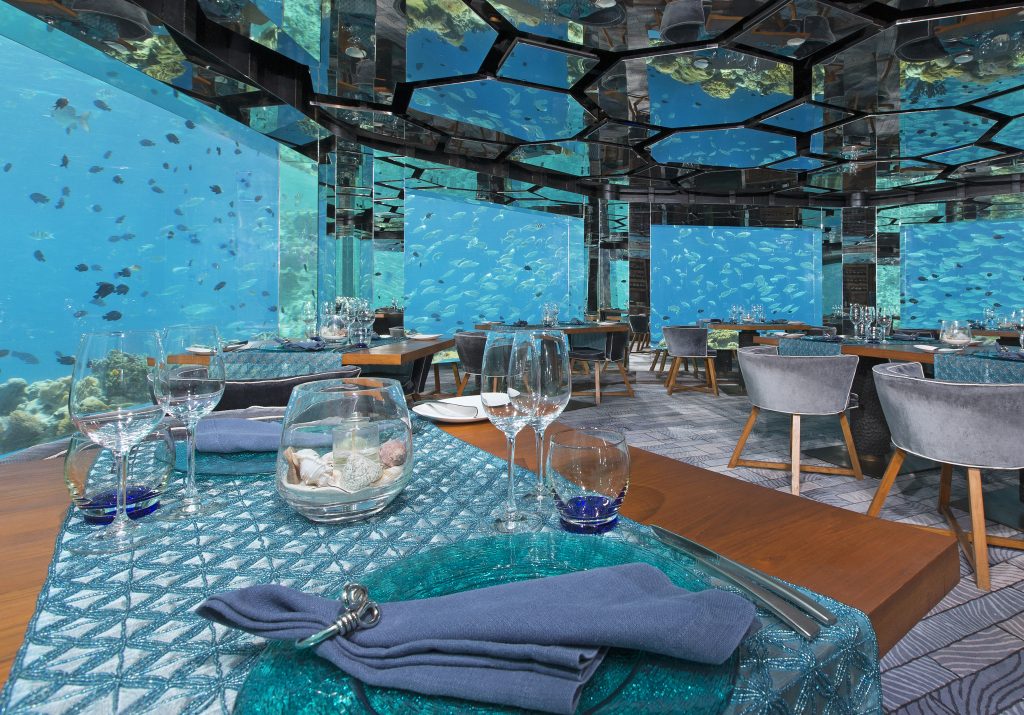 This Royal Adventure includes:
3 nights' accommodation in a Beach Pool Villa or Over Water Pool Villa
Seaplane transfers between the resort and Male International Airport
Daily buffet breakfast
1 dinner at 'Sea' underwater restaurant and wine cellar
Full-day island cruise aboard a private yacht
Private cinema experience under the stars
In-villa 'Slumber Guru' experience
Return CIP Service (Priority meet and greet service at airport)
To learn more about our Royal Adventures programme, browse which other experiences are available or to book your next stay, contact our dedicated Club Services team. Please note that Royal Adventures packages are designed for Elite Platinum and Elite Royal Club Points Owners.
Happy adventuring!
If you are interested in learning more about how you can take advantage of the many benefits of Vacation Ownership or have additional questions about what you've read, please email feedback@anantaraclub.com
Follow our social media platforms for daily travel inspiration: Twitter, Facebook, Instagram and Weibo or explore #anantaraclub