As Associate Director of Corporate Marketing & Communications, Bencharachit (known to us by her nickname, Dear) manages an in-house team of creatives in our Bangkok headquarters. Having kickstarted her career in Thailand at global agencies such as Leo Burnett and Ogilvy, Dear joined Anantara Vacation Club in early 2016 in hopes of gaining more experience in a corporate environment. We sat down with her to learn more about her vision for the company's marketing efforts and what drives her professionally.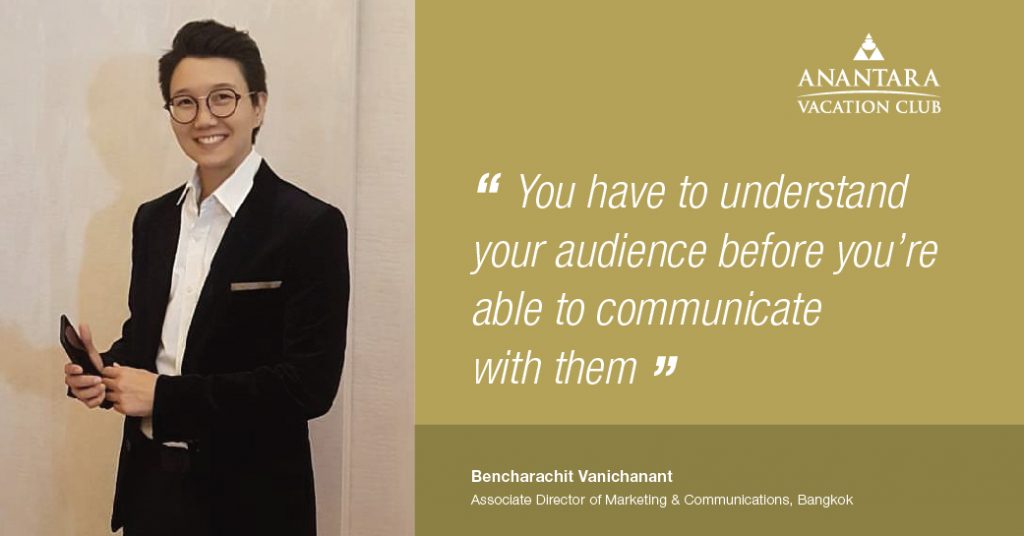 AVC: What inspired you to make the switch from the agency side to a corporate environment?
BV: Given the scale of our parent company Minor's operations across Thailand, I was familiar with the organisation before joining Anantara Vacation Club and really identified with its core values – especially its focus on customer satisfaction and people development. Minor promotes learning and growth from within, and is constantly providing training to management figures in order to help us grow our skill sets. My role also requires me to develop CSR initiatives for Anantara Vacation Club, which allows us to give back to the community that supports us.
While my past roles at agencies required me to work with multiple brands, I was also particularly excited about being able to focus on one brand in a corporate environment and spend my time developing that brand to the best of my team's capabilities.
AVC: How have your previous professional experiences influenced the work you do at Anantara Vacation Club?
BV: Having lived in the United States for several years and worked on global projects throughout my time at Leo Burnett and Ogilvy, my multicultural background has provided me with a deep overview of Asian and foreign markets and provided me with the flexibility to adapt our marketing initiatives accordingly. You have to understand people before you're able to communicate with them. Whether our team is working on a project for a Thai, Chinese, Japanese or Western audience, I'm able to identify what will resonate with each demographic and what won't.
AVC: What is an average day like in your role?
BV: No two days are alike at Anantara Vacation Club! Part of what I enjoy so much about my role is that it involves many different layers. For instance, the projects we work on for our Club Points Owners differ vastly from the marketing efforts tailored to potential Owners, the general public/press and our own internal communications and CSR efforts. I oversee a creative team of graphic designers, video designers and editors and we are constantly provided with variety in the work that we are creating. Project requests come in from Anantara Vacation Club's marketing alliances, Club Services, PR, content, communications, sales, HR and legal teams and I categorise them based on deadlines and order of importance before beginning to discuss with the team.
The creative team and I then have a kickoff project for each new project that we take on where we discuss vision, branding guidelines and who will be managing each component. I look at communication as an art – you have to customise each piece of work based on who will be consuming it. We ultimately aim to inspire emotion in people and help them create unforgettable travel memories. Luckily, our creative team is also service-minded and able to understand multiple target audiences in order to ultimately deliver work that resonates with them.
AVC: Which advice can you provide to those hoping to further their careers in hospitality marketing?
BV: I would advise them not to underestimate the power of internal communication. All of the projects we work on at Anantara Vacation Club belong to a common goal. In order for my team to understand the vision for each of their projects, they need to see how all of the puzzle pieces will fit together in the long run. Once they understand the company's overall aim, they can dial down into the specific details requested by each department for any given project. To prevent miscommunication with each other and deliver projects successfully, creative teams always need to be talking to each other.
Lastly, I would recommend that he or she maintain a service-mind. In hospitality marketing, our overall goal is to take care of people and help them create travel memories. Dig down and really understand your target customer's interests, preferences and values in order to be able to successfully engage them through your marketing efforts. Above all, smile. We're in the business of delivering happiness!