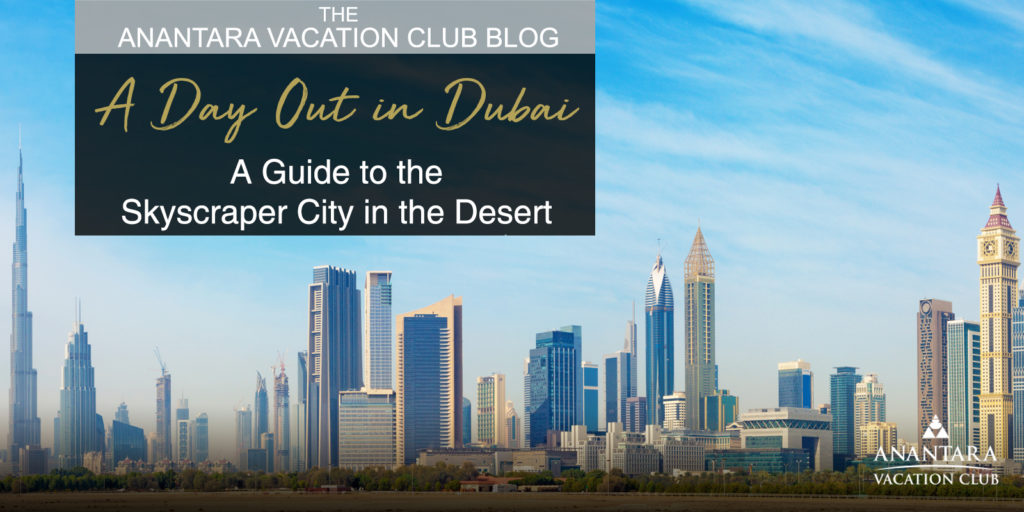 Luxurious shopping malls, stunning beaches, dune buggy adventures and fascinating souks – is it any wonder that Dubai has become the ultimate holiday destination? Enjoy the best that this skyscraper city in the desert has to offer by following our one-day tour guide!
Morning Desert Adventures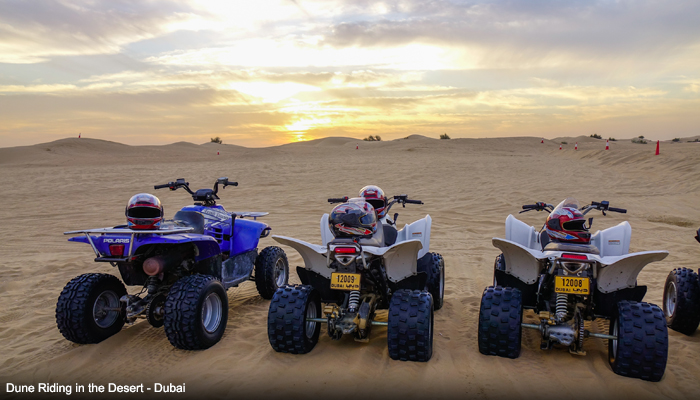 Imagine cruising along red sand dunes as the sun slowly rises over the desert…a pretty magical way to start your day in Dubai, right? If you don't mind getting up a little earlier than usual – you can sign up for a morning desert safari tour, which involves 45-minutes of dune bashing in a Land Cruiser, as well as the chance to go sand boarding down the dunes. Or, if you want added adrenalin, why not book a self-drive dune bashing session where you'll have the chance to ride your own Quad Bike or Dune Buggy over truly epic terrain. Both tour operators provide pick-up and drop-off services to Anantara the Palm Dubai Resort.
Shopping & Lunch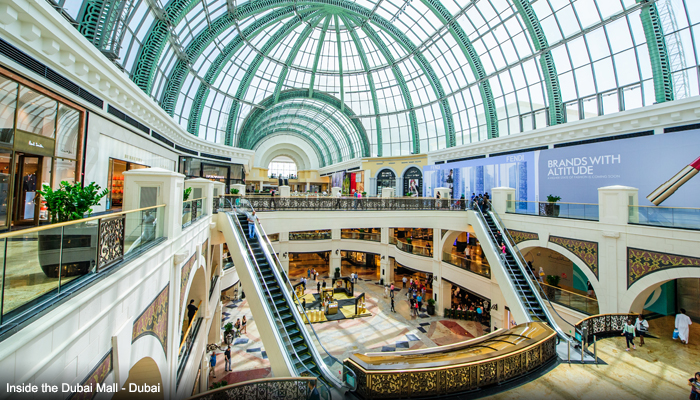 There's a slight risk when it comes to adding The Dubai Mall to a one-day travel itinerary, and that is – you may just want to spend the entire day inside this luxurious and spectacular mega mall! In fact, you could probably spend 24-hours in The Dubai Mall and still not see everything on offer. When it comes to designer labels you'll find all the big names – as well as boutique stores where you can pick up unique items. If you're travelling with kids – there's an ice rink inside the mall, as well as an indoor zoo and aquarium, which means there's plenty to keep them occupied while you or your other half go shopping. Between your sessions of retail therapy you can grab a bite to eat at one of the many restaurants and cafes that cover cuisine from all corners of the globe including Chinese, Indian, Middle Eastern, French, Italian, Japanese and American. It takes about 30 minutes in a taxi to get to the mall from Anantara.
Exploring the Souks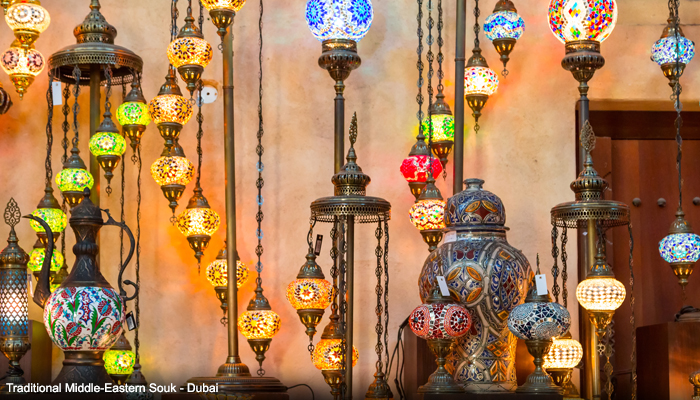 If you're not a fan of shopping malls but still want to pick up some souvenirs and gifts – or if you're just keen to explore a colourful and chaotic place while you're in Dubai, then your next stop should be the souks. Walk through the Spice Souk where you'll find piles of sweet-smelling cinnamon sticks, cardamom pods and star of anise. Treat your senses at the Perfume Souk where you can create your own fragrance or choose from a range of pre-mixed scents. If you're looking to buy some jewellery, head to The Gold Souk where you can pick up earrings, bracelets, necklaces and gems. Don't forget to haggle for a discount when you're buying items here. You'll sometimes be able to get things up to 70 per cent cheaper if you bargain with the vendor. Even if you don't end up purchasing anything, the souks are a great place to take photos and immerse yourself in Middle Eastern culture. The best souks are located in the Al-Dhagaya locality in Deira which is a 45-minute taxi ride from Anantara the Palm Dubai Resort.
Sunset from the World's Tallest Building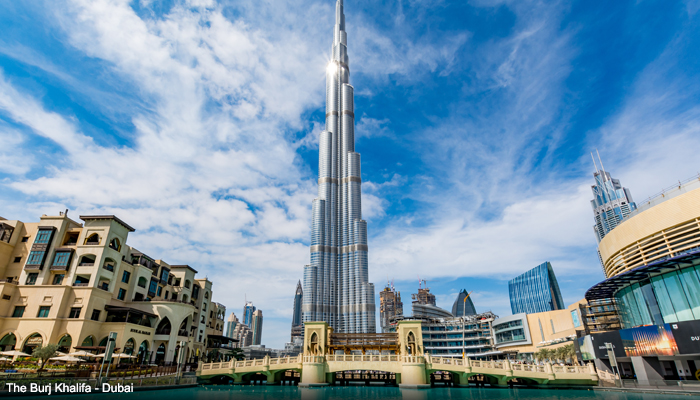 No trip to Dubai would be complete without heading to the top of the world's tallest building – the Burj Khalifa. The design for this 160-storey skyscraper was inspired by the structure of the Spider Lily which is a regional desert flower found in Dubai. It's one of the most photographed buildings in the world, and when you're standing on the observation deck – you're guaranteed to get some phenomenal holiday snaps! You'll also have the chance to experience one of the world's fastest elevators – which propels visitors upwards at 10 metres per second! We highly recommend booking a viewing at sunset. It's a 30-minute taxi ride from Anantara to the Burj.
After-Dark Spectacular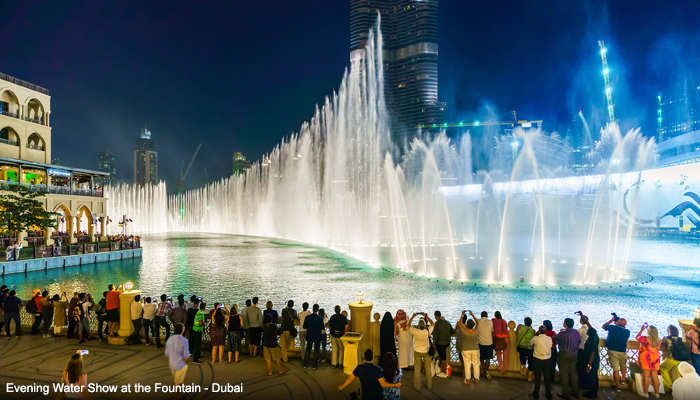 After taking in the sights from the tallest building in the world, why not check out the world's largest choreographed water fountain? Located between the Burj, The Dubai Mall and Souk Al Bahar – this spectacular creation spurts water 500 feet into the air in time to an inspiring soundtrack and light show. Head to the lake after 6pm where the show takes place every half hour. It's guaranteed to bring you joy!
A Novel Way to Get Around Town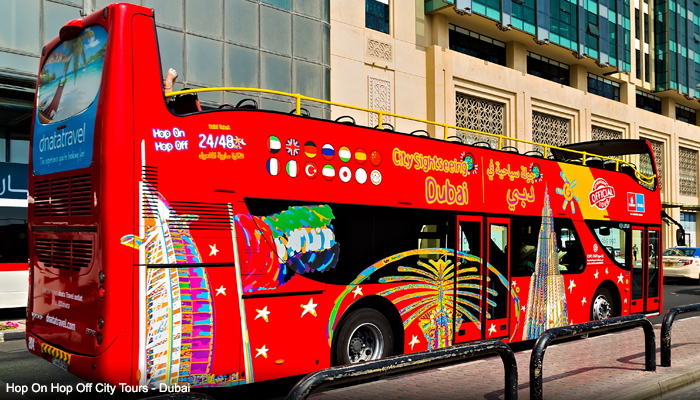 A great way to take in the major tourist attractions, if you only have one day to see everything, is to buy a ticket for the Dubai Hop-on, Hop-off Tour. The double decker buses have air-conditioned cabins as well as an open-air top deck area that lets you marvel at the skyscrapers above as you cruise around the city. The bus stops at 35 different locations including the Gold Souk, Jumeirah Park and The Burj Khalifa. It also offers commentary in 12 languages for those who want to learn more about the sights along the way. There are different packages to choose from that start from the basic hop-on, hop-off experience, to a ticket that includes discounted entry to over 26 attractions.
Enjoyed reading this post?
Check out some of our related topics below:
Bargains and Bazaars: The Best Places to Go Shopping in Dubai
A Culinary Exploration of Dubai
5 Ways to Spend the Day in Dubai