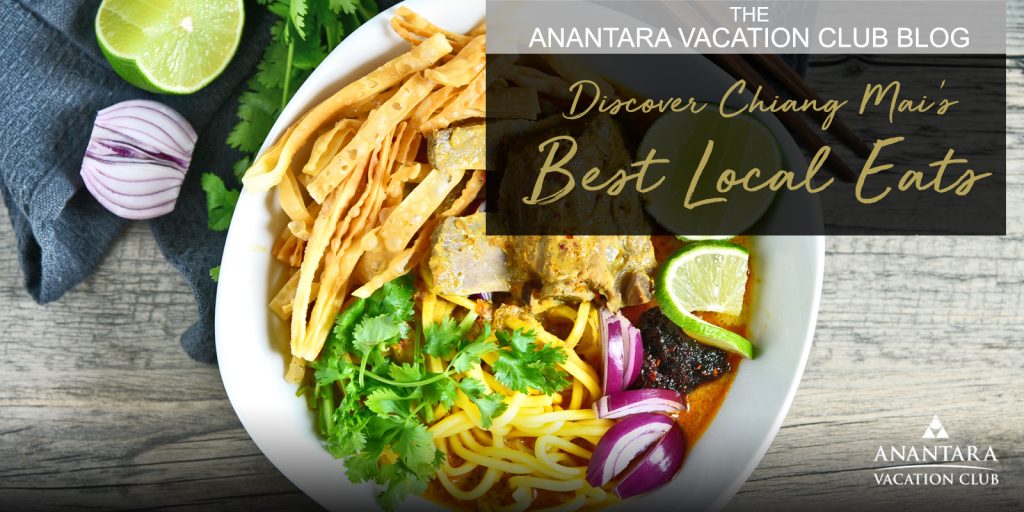 It's no secret that Thailand is a country with a whole lot of amazing food on the menu, and when it comes to the best place to sample these dishes – Chiang Mai is one of our favourites. Foodies flock to Thailand's second largest city from all corners of the globe to enjoy traditional dishes like Khao Soi, Som Tum and, of course, Pad Thai. So where should head for a feast on your next trip? Discover Chiang Mai's best local eats below…
Northern Fine Dining
It might be called David's Kitchen but it's Thai-born Chef O who is the real star of this fine dining Thai-French fusion establishment. Chef O's passion for his work is evident in the perfection of each dish that is brought to the table. Rumour has it that for his beef bourguignon he makes a batch of sauce that starts out at 50 litres – and then slowly reduces it to 10 litres over a period of 48 hours. Husband and wife, David and Prom, make up the rest of the dream team – offering great service without the pretence that you'd find at similar establishments in London and Paris. Located in one of Chiang Mai's oldest wooden buildings, The Gallery is a restaurant that combines mouth-watering cuisine with stunning arts and antiques. Everything about the décor in this place is old-world-charm and when it comes to the menu, there is plenty of goodness to choose from including ribeye steak, pork chops and Thai dishes like spicy chicken in banana leaves.
Lanna Cultural Immersion
One word to describe Khum Khantoke: exquisite. Set in a stunning Lanna style wooden house, this restaurant allows you to immerse yourself in a colourful cultural show in between trips to the buffet where you can top up your plate with authentic northern dishes such as Burmese pork curry and spiced minced pork. The costumes are dazzling, the atmosphere is charming and the food will not disappoint.
Get Your Fill of Khao Soi
If there's one dish you must try during your trip to Chiang Mai, it's Khao Soi. Made from a combination of boiled and deep fried egg noodles, seasoned with chillies, shallots, pickled mustard greens and lime, and covered in steaming coconut curry soup with a chicken leg or two added to the bowl. Khao Soi tastes similar to a Massaman curry and is deeply addictive! The best place to try a bowl is Khao Soi Islam which also serves up a great chicken satay with a to-die-for peanut sauce. Khao Soi Khun Yai is another fabulous place to enjoy this dish but beware that they often run out due to so many locals eating there on a daily basis… get there well before closing time!
Food with the Blues
What better way to enjoy delicious Thai dishes than to sip on a beer, listening to an amazing live blues band, next to the Ping River? There are two well-known establishments that offer just that in Chiang Mai. The Riverside has been serving great food and tunes to customers for over 30 years. Menu-must-try items include deep fried chicken in Pandanus leaves, spicy seafood soufflé served inside a coconut and the seafood Riverside Basket. Also on the river is Brasserie which has even more of a music scene, thanks to live acts performing every night of the week. You'll find all the Thai classics on the menu but we recommend the red curry with roasted duck…yum!
Veggie Delights
The vegan and vegetarian food movement has well and truly reached Chiang Mai with many cafes offering plant-based options. Located inside Wat Suan Dok (making it quite tricky to find) is Pun Pun, a vegetarian restaurant which makes all its dishes from fresh produce straight from its organic farm. Try the banana leaf salad as well as their refreshing fruit smoothies. True to its name, A Taste From Heaven, serves up divine food that ranges from spicy cauliflower wings to vegan chicken wraps full of healthy salad ingredients. If you're interested in Ayurvedic medicine and cuisine, head to The Whole Earth which, for more than 40 years, has been dishing up world class Indian, Thai and veg meals. There's a blissful garden on site as well a meditation centre, which makes this one of the most relaxing places to dine in Chiang Mai.
A Taste of Burma
Being so close to the Myanmar border, Chiang Mai's cuisine is influenced by the flavours and recipes of its neighbour, which is why you'll find Burmese dishes on the menu of many of the restaurants in the city. To get a taste of what it's all about, head to the Burmese Restaurant and Library. Meals here are super cheap as long as you don't mind eating them on a shared table sitting on a plastic stool by the road. At the top on your list of things to try should be the pickled tea leaf salad, eggplant curry and bean soup. Another great eatery that serves Burmese specialities is The Swan where the fish curry is always a winner as well as the pork meatballs with their moreish dipping sauce.
Enjoyed reading about Chiang Mai's Best Local Eats? Check out some of the related blog posts below!
Cocktails with a View: A Guide to Picture-Perfect Bars in Phuket