After embarking on a career in hospitality more than 20 years ago, Made Subrata intimately knows the ins and outs of the industry and how to manage a hotel property. His extensive experience with leading industry brands operating across Bali, including Intercontinental, Conrad and Sheraton, combined with his experience working in a variety of roles ranging from Front Office Manager to Resort Manager, all led to Made joining Anantara Vacation Club Seminyak Bali as its General Manager at the end of 2015.
Interested to learn more about his road to success, we spoke with Made to better understand the career path of a hospitality industry professional and to see what skills he thinks are needed to become the General Manager of a resort.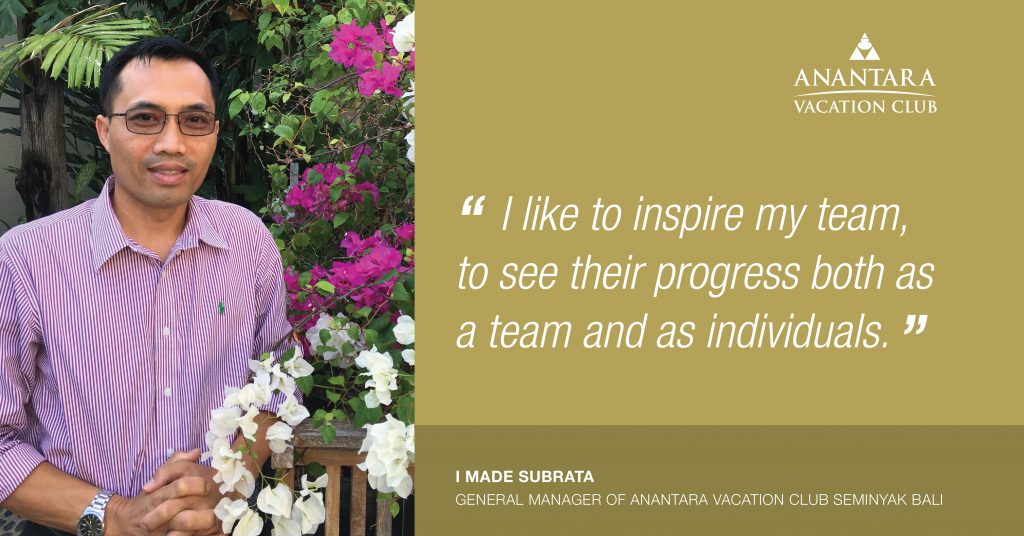 Does the fact that you've held different positions in the hotel industry help you in your current role of General Manager both on a strategic level as well as in day-to-day operations?
It definitely has helped! Understanding the daily routine and challenges of various departments through firsthand experience helps me achieve operational excellence in the resort. The knowledge acquired through my previous roles has allowed me to have a holistic approach toward managing Anantara Vacation Club Seminyak Bali.
Have you always wanted to be the general manager of a resort?
To be honest, in my early days when I started to work in hotels I did not consider becoming a GM as an ultimate goal – it seemed like such a far off ambition. That said, with every role I took, I immensely enjoyed my progression and every time I started a new role I would then consider what my next objective and step in my career should be. I was very keen to grow both professionally and personally, and opportunities came quickly as I moved from Recreation
\Supervisor to Recreation Manager, to Front Office Manager, Rooms Division Manager and Executive Assistant Manager. I eagerly absorbed new knowledge, opportunities and challenges and then things happened naturally. It's true that "where there is a will, there is a way".
This year you were recognised with the Award of Excellence by William E. Heinecke, Founder and Chairman of MINT. For what kind of achievements did you receive this award?
Every year Minor International organises a company event to award individuals who demonstrate outstanding performance and exceed company business targets. I received this Award of Excellence for introducing new strategies at Anantara Vacation Club Seminyak Bali that allowed us to significantly increase the resort revenues and ensure that the property is in excellent condition.
I was very surprised to receive the award but extremely delighted to share the award with my team! Needless to say that the effort that led to receiving the award was not the effort of one person – running a hotel isn't a one man show – it was the joint effort of our Anantara Vacation Club Seminyak Bali team.
What are the most crucial skills and characteristics for a general manager of a hotel?
In my opinion, a combination of technical and soft skills makes for a great general manager. I can go on and on citing all the qualities required, but let me focus on three qualities that I find extremely important:
People skills
A general manager takes care of the team and is also the one who motivates the team, so having excellent people skills is crucial. A successful general manager can identify the strengths of the individuals in the team and help those individuals to develop and grow. People skills are also very important for building external relationships and communicating with clients and service providers.
Financial literacy and operations knowledge
One can't be a good general manager without a deep understanding of the "nitty gritty" of the financial details. At the end of the day, a general manager is responsible for the financial results of the resort. Strong operational knowledge comes hand in hand with financial literacy. In order to get the bottom line right, a general manager needs to be very knowledgeable about the operational side of the business.
Strive to succeed and exceed
As a general manager, it is important to keep your finger on the pulse of the property at all times and constantly strive to succeed by improving operational efficiency and P&L, raising the bar for team performance, and ensuring that guests are satisfied over and over again. At Anantara Vacation Club Seminyak Bali we are constantly striving to exceed expectations.
What are the most important lessons you've learned throughout your career?
I've learned to be open-minded. This mindset helped, and still helps, me immensely in my professional and personal life. I've also learned to take calculated risks, and to be ready for any situation by being flexible, particularly when things don't go as planned.
What advice will you give to young hotel professionals who dream of becoming a hotel GM?
Passion for hospitality is the most important factor to succeed in this industry. To be honest, this industry is not for everyone. Hotel work often requires long hours, it's stressful at times and one needs to be ready to deal with all kinds of situations.
Another piece of advice I would like to give to young professionals is that they should be ahead of trends. The industry is constantly changing and evolving and it's important to read and stay tuned to industry developments! Additionally, as a young professional, having work experience in various hotel departments is essential. This will serve you well later and will allow you to have a broader perspective on hotel operations.
What is your attitude toward guest complaints?
Naturally, as the general manager of the resort, I would prefer not to have any! However, once in a while we do face a complaint or concern from our guests. My belief is that complaints and concerns help us to improve. We take our client feedback very seriously, investigating what went wrong and what actions we should take in the future to ensure that the incident won't happen again. We find a consensus and go the extra mile to ensure that at the end of their stay, our guest feels comfortable and satisfied.
Does Anantara Vacation Club Seminyak Bali participate in any CSR related activities?
We are located on a beautiful island that is very community oriented and it is important to be part of this community. We help support the local community and surroundings by organising beach and jungle clean-ups and we also provide food donations to local organisations.
Not only do we participate in community activities, but we encourage our hotel guests to do so as well. For instance, we run a programme encouraging every guest to donate USD 1 during their stay to support child care and education in Bali.
What do you enjoy the most about being a general manager?
I love working with people. I like to inspire my team, to see their progress both as a team and as individuals. I am happy when I see my team members progressing in their career and achieving their goals. It makes me feel accomplished and that I have achieved my own objectives as a leader of the organisation.
Another thing that gives me tremendous joy, is to see our Club Points Owners happy. As I always say to my team, "A happy customer means a happy me". It's incredibly rewarding to see our Club Points Owners leave the resort feeling refreshed, happy and fully satisfied with their stay.
If you are interested in learning more about how you can take advantage of the many benefits of Vacation Ownership or have additional questions about what you've read, please email feedback@anantaraclub.com
Follow our social media platforms for daily travel inspiration: Twitter, Facebook, Instagram and Weibo or explore #anantaraclub