As avid travellers, our Club Points Owners Nori and Scott Brixen have visited over 100 countries together. Their passion for adventure and exploration even prompted them to take three years off, to travel around the globe together in 2003! The cosmopolitan American couple have lived in the UK, Hong Kong, Australia and Singapore before settling down in Thailand, where they're currently based.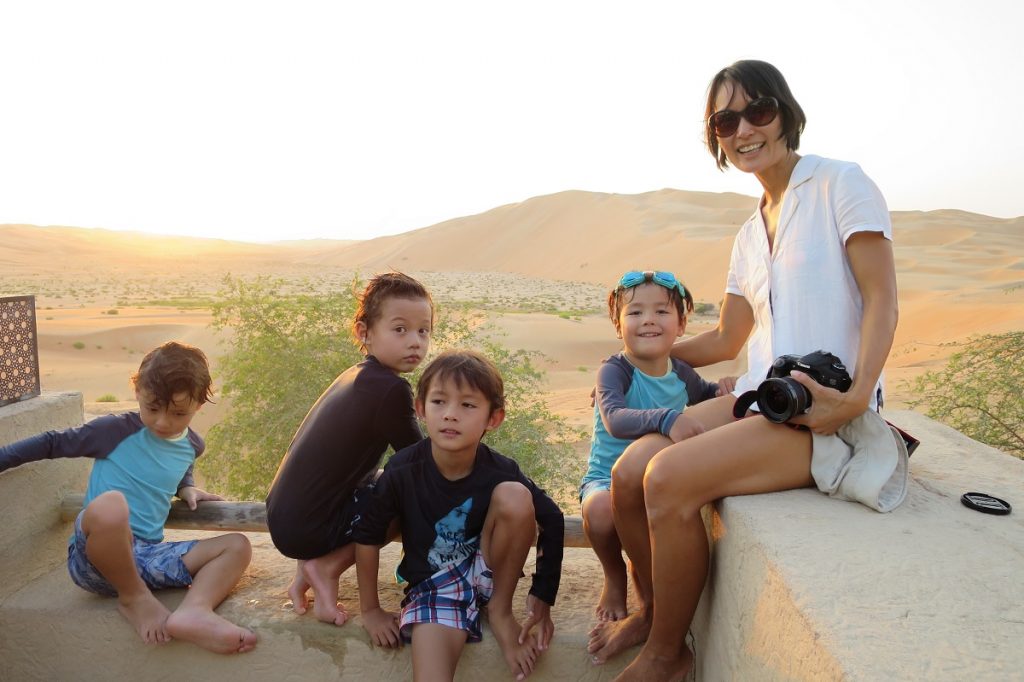 The Brixen family discovered our shared holiday ownership concept on a preview tour, while staying at Anantara Vacation Club Bophut Koh Samui in 2015. After evaluating how often they travelled within Asia and its vicinity and considering the size of their family, they decided to become Club Points Owners. Since then, they've enjoyed stays at the Anantara Vacation Club at  Riverside Bangkok and Sathorn Bangkok, Mai Khao Phuket, Bophut Samui, Anantara Siam and Anantara Si Kao, and a mesmerizing adventure to Qasr Al Sarab Desert Resort in United Arab Emirates.
AVC: As a six member family, what are your expectations from a resort when travelling and how does Anantara Vacation Club meet those expectations?

NB: First, we need big rooms! As our four boys are young and energetic, they go a little bit crazy if we're all squeezed into a tight space together. A living room is crucial so that the kids have space to run around and play, and so that my husband can get some work done at a desk area. We also like having a large bathroom in order to handle bath/shower time with less stress. The room options we have with Anantara Vacation Club are perfect for our big family.
Second, our children love to swim, go wave-jumping, explore tide pools and roam around the resort "critter hunting", so we're always looking for a safe and fun environment for them. We like resorts with a big pool, expansive grounds and proximity to a beach. We love that Anantara Vacation Club properties are kid-friendly without being kid-focused.
Lastly, while we want as much 'quality time' with our kids as we can get, access to a Kids Club is important as it enables us as parents to enjoy a few hours' break while our sons are kept entertained with various activities. During our stay at Anantara Si Kao Resort, the boys immensely enjoyed feeding the fish as part of the Kids Club activity programme. At Qasr Al-Sarab Desert Resort by Anantara, they spent a fun afternoon making crafts, while also keeping active on a playground equipped with swings, slides and a trampoline.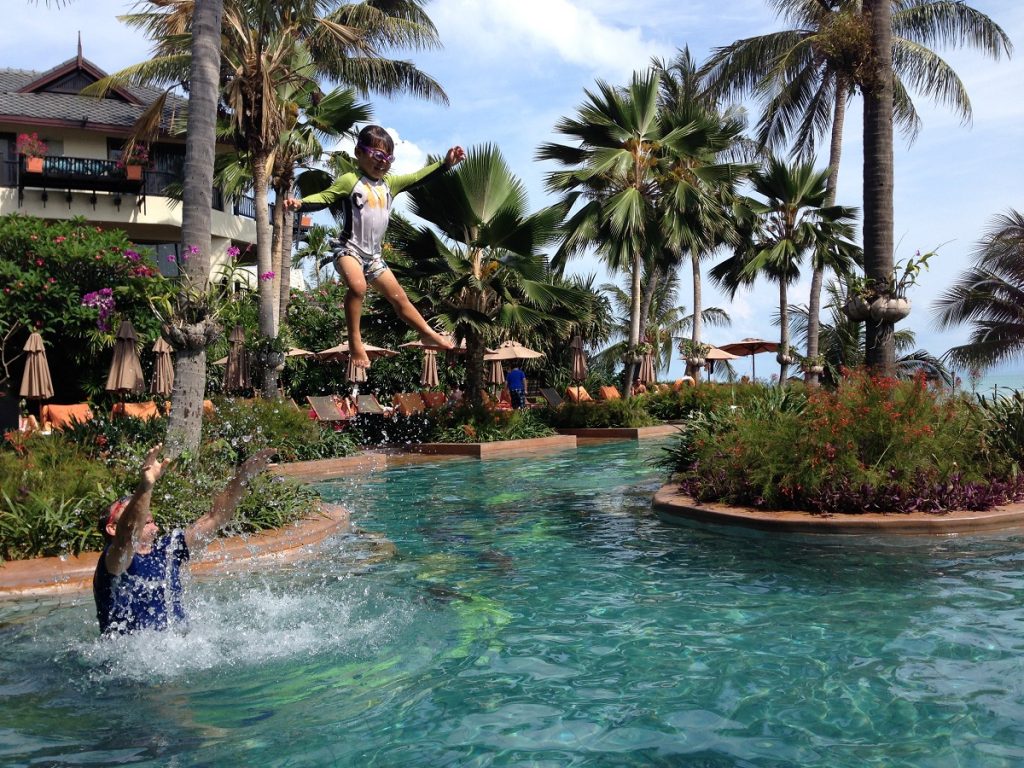 "Consistently excellent service that is guest-focused, helpful and friendly is one of the many reasons why Anantara Vacation Club continues to meet the expectations of a family like ours."

AVC: Which Anantara Vacation Club stay was your most memorable to date, and why?

NB: Staying at Qasr Al-Sarab Resort by Anantara was an amazing experience. It was unforgettable in so many ways. The hotel is located in Abu Dhabi at the edge of the Rub al-Khali – the "Empty Quarter" – an endless sand sea. As we left Dubai and headed towards Abu Dhabi, we soon left the mega-city behind and entered an expanse of low sand dunes, making us feel like we were in a completely different world. When we turned off the highway onto the resort's access road, the dunes grew higher and higher until the resort's breath-taking architecture appeared seemingly out of nowhere. It was a dramatic sight made perhaps even more special given that we approached it while the sun was rising.
The hotel's interior is also a feast for the eyes. Every piece of furniture and décor seemed like a work of art. The design is palatial yet classy with Moorish, Moroccan and Turkish Islamic influences, as well as traditional Bedouin tapestries and ceramics.
Additionally, the service provided was impeccable. The restaurant, hotel and transport staff were all helpful, friendly and always willing to lend a hand when they saw us with our four young kids.
AVC: Throughout your stays with us, when have small touches in terms of service, location or amenities had a significant impact on your overall travel experience?
NB: We always aim to educate our children about the places we visit; and our boys love animals. On the first night at Qasr Al-Sarab we were reading to them about the Arabian oryx – the UAE's national animal – and learning how to sketch them. To our surprise, early the next morning we saw an oryx from our window! We were all delighted to have seen such a rare and regal animal, right outside our hotel room.
In terms of service, the staff at Anantara Si Kao come to mind. The activities manager, Bunty, was extremely helpful and knowledgeable. It's a shame that it was the rainy season, as we were unable to embark on many of the activities such as the dugong watching and visiting nearby beaches and islands due to the weather. Additionally, Khun Nee was very knowledgeable about the area and our kids looked forward to seeing her in the restaurant every morning!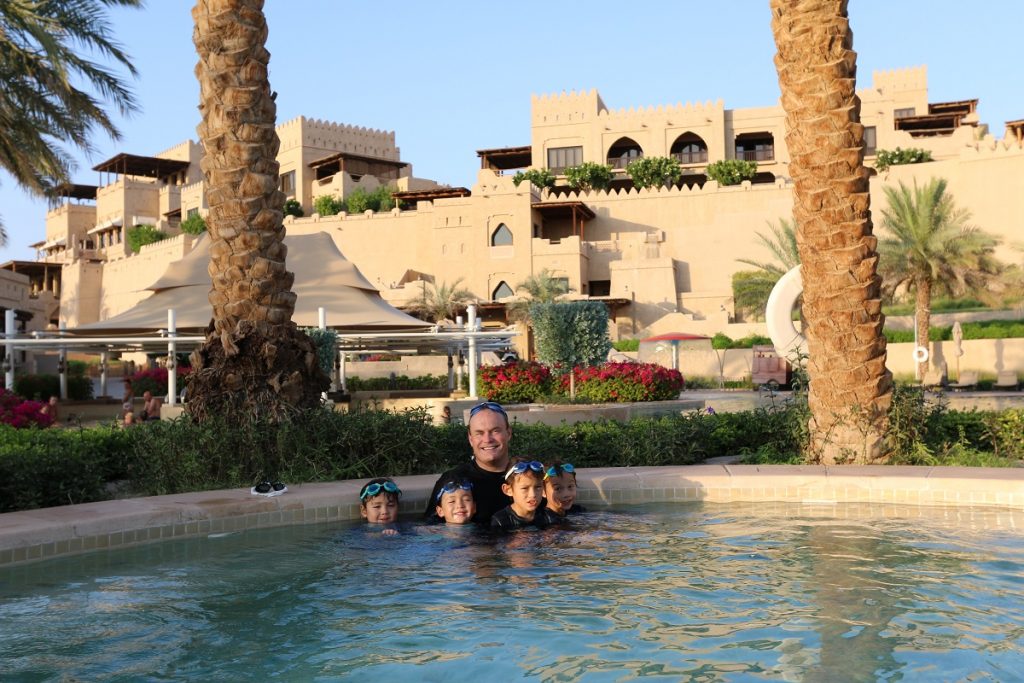 About the Brixen family's Two Twins Twavel project.
We're always eager to learn more about our Club Points Owners and their personal interests. As a busy mother of four, Nori is also the founder of Two Twins Twavel, a specialized blog and vlog highlighting the realities of travelling with a large family and offering tips and inspiration to other parents. The Brixen's aim with their site is to encourage families to explore the world with their children and educate them through the cultural experiences they encounter along the way.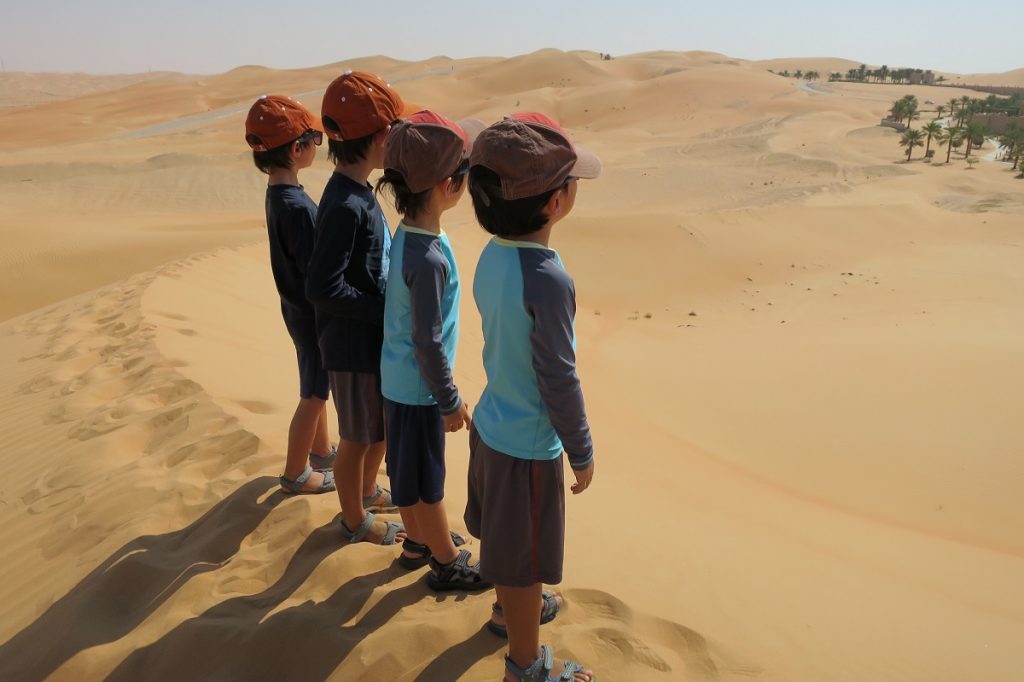 You can follow the Brixen family's travels at twotwinstwavel.com, or follow them on Instagram at twotwinstwavel for photos of their Anantara Vacation Club stays and adventures.
If you are interested in learning more about how you can take advantage of the many benefits of Vacation Ownership or have additional questions about what you've read, please email feedback@anantaraclub.com
Follow our social media platforms for daily travel inspiration: Twitter, Facebook, Instagram and Weibo or explore #anantaraclub