We recently sat down with Keratikan Rakvit, our Director of Finance in South-East Asia and Corporate Group Controller, to learn more about his career, accomplishments with Anantara Vacation Club and advice he would give to those hoping to build a finance career in the hospitality industry.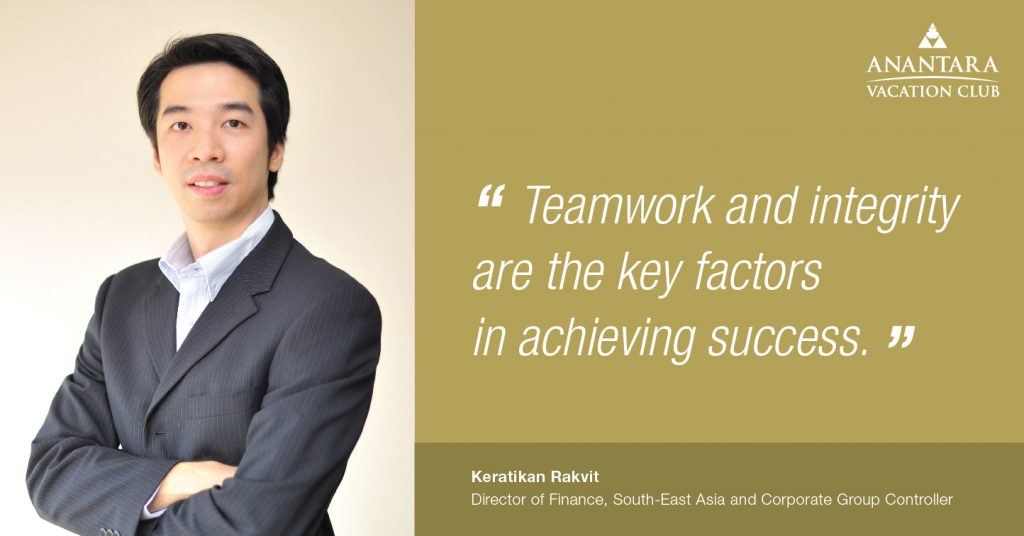 Can you tell us more about your journey with the Minor Hotel Group?
I joined the Minor Hotel Group in 2009. At that time, I assisted the CFO and CEO in advising on investments and providing business analysis on various projects such as the opening of the St. Regis Hotel and Residences, the launch of the AVANI Hotels and Resorts brand and Four Season Hotels and Resorts projects. Throughout this period, we were working on launching Anantara Vacation Club, Minor's first foray into the timeshare industry. The project soon became reality, and in 2011 I was asked to join Anantara Vacation Club as its Director of Finance.
How has Anantara Vacation Club evolved since you joined the company?
This company is really amazing. I have been lucky to be part of Anantara Vacation Club since its inception and to have witnessed its fascinating growth.  Despite having an incredibly complicated financial structure, we have been expanding rapidly. In the first three years, revenues have grown more than 4 times. It's quite rare to see this accelerated rate of growth in the hospitality industry. This success shows that we have a strong brand and have earned customer trust and recognition. As a hospitality group, we have used the knowledge we acquired from the Minor Group's hotel operations to service our timeshare customers better than our industry competitors.
How do you hope to see the timeshare industry evolve as a whole over the next five years?
The timeshare industry was created to match the updated lifestyle habits of our new generation.  We can compare our industry to real estate, noting that the timeshare industry is much more flexible. Ultimately, customers can now travel to multiple locations at a price that matches their time and needs. Given this, I am optimistic and I see a lot of potential for the timeshare industry as a whole in Asia. I believe that it will continue to evolve and double in growth in Asia over the next five years.
What are the biggest achievements for you during your career in Anantara Vacation Club?
I'm proud to be one of the Anantara Vacation Club key founders and to have been present throughout each stage of its inception. We started Anantara Vacation Club operations with 5 people (based on our planning phase in 2010) and have now grown to about 850 team members in various countries to provide quality service to our customers and support our operations. I strongly believe that the company will continue to grow and acquire more properties in additional locations to serve more customers.
What advice can you give to the young professionals who want to build their career in Finance departments in the corporate world?
Finance and Accounting role functions in the workplace have evolved a lot over the past few years. To succeed in their career, Finance and Accounting professionals should really understand the business they are in and be able to provide meaningful reports to support the decision making process and the growth of their company.
What do you enjoy the most about your work?
We have a very good teamwork ethic here. I love to come to work every day, interact with my team and solve challenging problems to ultimately help Anantara Vacation Club continue to expand and grow.
If you are interested in learning more about how you can take advantage of the many benefits of Vacation Ownership or have additional questions about what you've read, please email feedback@anantaraclub.com
Follow our social media platforms for daily travel inspiration: Twitter, Facebook, Instagram and Weibo or explore #anantaraclub