Our team leader interview brought us to China this month, where we met with Assistant Director of Human Resources, Joanne Xu, to hear her take on HR trends and her strategies for talent attraction and retention.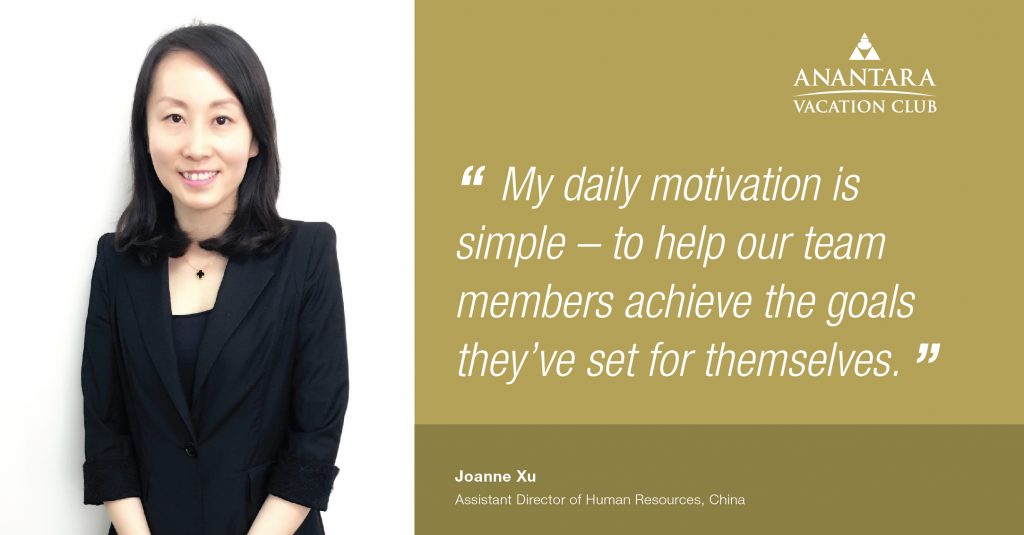 Joanne joined Anantara Vacation Club's China office in 2015 in the role of Recruitment Manager and has been involved in key HR related activities in China and Hong Kong throughout leadership transition periods. Recently, she was promoted to the role of Assistant Director of Human Resources.
As a seasoned Human Resources leader with 14 years of hospitality experience, Joanne's previous role was with Shanghai's Marriott City Centre Hotel.
Her dedication to her career path, along with the influence of industry-leading mentors she has met along the way, have played a crucial role in her securing the leadership position she currently holds.
What do you enjoy the most about your work?
What I enjoy the most are the people I work with, including our recently hired talents. They are always striving to achieve their goals and realize their full potential, which I find incredibly inspiring. I like to witness my colleagues' motivational efforts, as we all work together to strengthen Anantara Vacation Club as a brand in China.
What is the most important lesson you've learned throughout your career?
Positive attitude is the key to success. When you look at challenges positively, they transform into opportunities. That is one of the most important lessons I have learned throughout my professional career. I use this approach in both my professional and personal life and it never fails to keep me motivated.
Talking about this reminds me of when I was sent to the Anantara Vacation Club office in Hong Kong during our transition period there. I was the only HR team member in the office. After one week of training, I was asked to handle all HR related matters on my own. While it was an enormous amount of pressure, I took the challenge in stride! In about two months, I learned a lot about labour law and local insurance policies, and I was able to handle all new and ongoing tasks during a very challenging period for the HR team as a whole.
How do you attract and retain the right talent at Anantara Vacation Club?
In terms of attracting new talent, promoting a positive company brand image is imperative. To retain talent, we have to maintain a positive work environment. To achieve that, there are three critical steps: A) Engagement – To make team members feel as though they're a part of the company and its success; B) Recognition – Offering an effective incentive plan and celebrating team member success; and C) Development – Creating an employee development plan based on coaching, training and internal development opportunities.
What qualities do you look for in candidates who apply for roles at Anantara Vacation Club?
Clearly, technical skills are important for certain positions. However, these skills can be acquired. If the candidate does not have the relevant timeshare knowledge and experience, we can provide coaching and training in order to help them master their role. Integrity and positive mindset are the personality traits that I look for in particular in new talent. These attributes are usually innate and are very difficult to try to teach somebody. We are ultimately looking for proactive candidates with a "can do" attitude even if they've never done it before.
China is highly digitalized today. How is technology reshaping HR roles and the recruitment and retention process?
Social media has exploded in recent years in China. Today, it is used for multiple purposes: employer branding, internal communications and, of course, recruitment. We use WeChat and Weibo for talent targeting, internal communications and knowledge sharing. We have a company HR WeChat group, where HR and team members can post documents, interact and share news. This channel can be also used for internal referrals.
The majority of Chinese nationals, especially the new generation, are spending an increasing amount of time on their mobile phones. WeChat is a great way to reach out to them and make a connection with them in their comfortable "habitat".
We also have a dedicated Linkedin Page in Chinese (https://www.linkedin.com/company/16231132).
In general, we use LinkedIn as a recruitment tool for senior management positions. For example, our current Call Centre Manager was found via LinkedIn. I use the platform on a daily basis to build connections with potential candidates and to gain knowledge about the professional market as a whole.
As an HR leader, how do you think Anantara Vacation Club sets itself apart in comparison to its competitors?
Timeshare ownership is a new concept in China. More and more people, especially the younger generation, are interested in our product. By becoming a Club Points Owner, they can travel to many different destinations based on their ownership tier, which matches their lifestyle and travel needs.
As such, I personally feel that there is a lot of opportunity for growth for the timeshare industry in China.
Our company is a global company and we have strong support from our parent company, Minor International, to further grow and expand our business in the Greater China region. Having a strong and well established international brand behind us really helps our efforts and sets us apart from our competitors in the country.
Lastly, what makes you feel proud to work for Anantara Vacation Club?
It seems that I began the interview on the subject of teamwork and am now concluding with the same topic.
I am extremely proud to work with my team. It gives me great pleasure to share my daily experiences with my enthusiastic, supportive and engaged colleagues. We all work with the same objective in mind – to help Anantara Vacation Club grow and prosper in China.
My daily motivation is simple – to help our team members achieve the goals they've set for themselves.
If you are interested in learning more about how you can take advantage of the many benefits of Vacation Ownership or have additional questions about what you've read, please email feedback@anantaraclub.com
Follow our social media platforms for daily travel inspiration: Twitter, Facebook, Instagram and Weibo or explore #anantaraclub