To commemorate International Women's Day, we sat down with Patcharee 'Tak' Chaisepar, Anantara Vacation Club Director of Business Development, to gain her insight into the industry and hear what it takes for a woman to achieve success.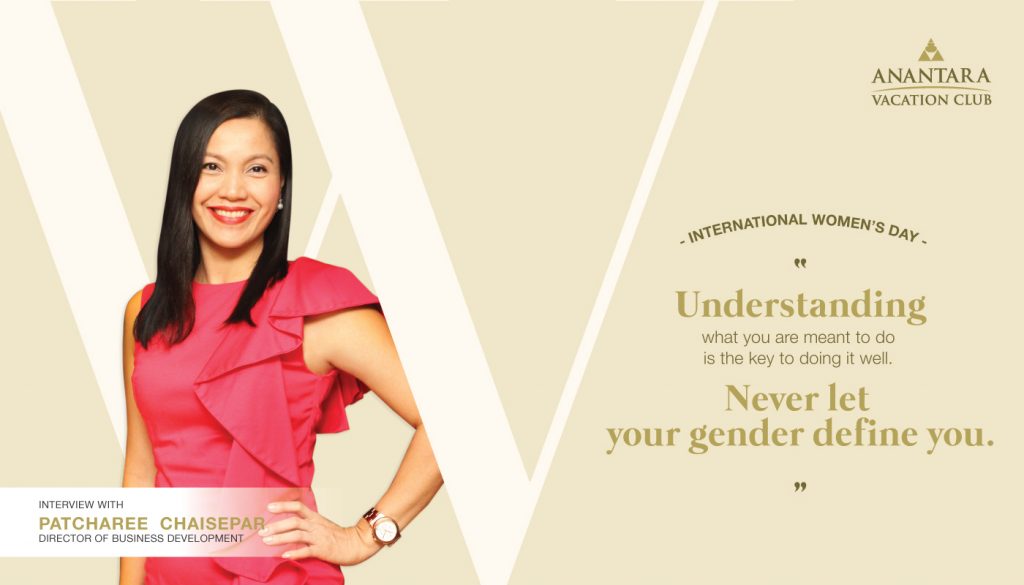 Hi Tak. Thanks for joining us. What is your current role with Anantara Vacation Club, and what does it entail?
At present, I serve as the Director of Business Development. In short, it's my job to help our organization branch out, establish and maintain relationships with new and existing partners, negotiate deals and oversee marketing campaigns through a variety of platforms. I know it sounds like a lot, and it is! But I love it.
Why did you choose to go into the field of business development? Has that always been your goal?
I wouldn't say it was my 'dream job' growing up, but once I got a taste for it, I couldn't get enough. When I first started out, I had no experience whatsoever in sales or marketing, but it was something that sparked my curiosity. I took it upon myself to learn more. While working for Anantara Vacation Club, I saw a chance to take on a new role, and I jumped on the opportunity and never looked back. My passion has always been my biggest motivator. In the words of the late Steve Jobs, "The only way to do great work is to love what you do". I am a firm believer that people who are passionate about what they do will be happier and work more productively.
Who was your biggest influence or role model growing up?
My biggest role model has always been my dad. I distinctly remember him telling me something to the effect of, "Hard work beats talent when talent doesn't work hard". Essentially, it doesn't matter how gifted you are, without a strong work ethic and sincere passion, it's impossible to truly achieve success. My dad's words have always stuck with me and have motivated me to push myself to my limits and to strive for success in everything I do.
How do you balance your work life and personal life?
What personal life? Haha. No, but in all seriousness, nothing great can ever come without some sacrifices. The key is to set your priorities and manage your workload. My role often requires me to work late, on weekends or exactly at the moment I sit down on my sofa to watch some Netflix. But this is what's required. Work certainly occupies most of my time, but you need to remember that if you really love what you do, it doesn't feel like work. Not to mention, I've made so many great friends through my job that oftentimes my work and personal life blend together. Sometimes it's hard to tell the difference.
Did you have a mentor when you were working your way up in the industry?
I have had more than a few over the years. I consider myself very lucky to have such amazing family and friends, as well as colleagues that have helped me along the way. Without their help, I wouldn't be where I am now and wouldn't be the same person I am today. No one can do it all by themselves. Take help when you can. The ability to accept help is not a weakness. It's a strength.
What barriers did you face as a woman in your field, and what do you think is the biggest challenge facing women in business today?
I would say the biggest challenge for me, as well as for a lot of other working women, is a lack of female role models in the field. Certainly things have been improving over the years, but as an industry, I think we still have a long way to go. Fortunately for me, I am able to work in a company alongside many other fantastic women in management and leadership positions. But certainly, I would like to see more female leaders emerge. The future of the next generation of young ladies depends on it.
What advice would you give to other aspiring young women who want to break into the industry?
If you want to set yourself apart, follow the 10 steps to success. 1) Challenge yourself 2) Do work you care about 3) Believe in yourself 4) Take action 5) Manage energy, not time 6) Know your goals 7) Learn from mistakes and complaints 8) Know your customer 9) Understand your industry 10) Deliver more than expected. If you can manage to do all of these things, success is inevitable.
What message would you like to share with the world on International Women's Day?
Don't conform to the stereotypes. If you want to get ahead in work, or life or whatever, you need to figure out your role. Where do you fit into the big picture? Understanding what you are meant to do is the key to doing it well. Never let your gender define you. At the end of the day, everything comes down to performance. Prove your worth. Set your goals and achieve them. There will always be obstacles and no one escapes life without getting knocked down a few times. Just remember to get back up stronger than before and learn from your experience.
Thank you for sitting down with us Tak. Happy International Women's Day to all of the beautiful warriors out there fighting every day to make the world a better place!
Interested in a career with Anantara Vacation Club? You can explore all of our opportunities by clicking the link below.