Calling all creatives! We've launched a one-of-a-kind contest geared at videographers to capture our luxury resorts across South East Asia.
Amateur and professional videographers alike are invited to enter our Travel Video Contest, with the winner earning a five-star vacation to four Club Resorts located in Thailand and Indonesia, as well as the opportunity to create compelling videos about the resorts – proving themselves as a skilled travel videographer.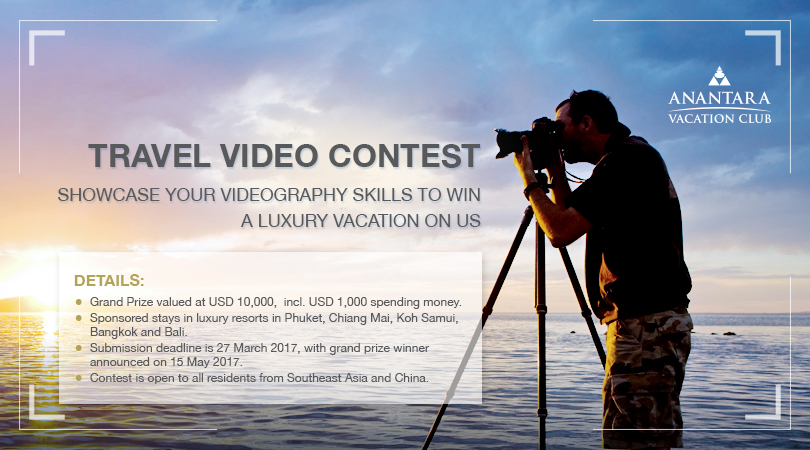 "There is so much creative talent in the world, and we welcome the opportunity to discover and encourage it while also showcasing our Club Resorts," said Yanick Targonski, our Digital Marketing Manager.  "We look forward to selecting a winner and inviting the world to enjoy our destinations through their camera lens!"
Our Travel Video Contest is open to professional and amateur videographers from South East Asia and China. Videographers are invited to enter by submitting a 30-second video that highlights their talents and work before 27 March 2017.
From these entries, three finalists will be awarded a vacation to Anantara Vacation Club Mai Khao Phuket, where they will produce a one-minute video about the resort. The public will have the opportunity to vote for the winner on our dedicated contest site from 1 – 14 May 2017.
The videographer with the winning entry will receive a five-star vacation to our Club Resorts in Bangkok, Chiang Mai, Koh Samui and Bali. He/she will develop a one-minute video for each property, which will be featured across our digital and social media channels.
On top of that, to make the trip more enjoyable…the Grand Prize winner will receive a total of USD 1,000 spending money!
Contest Details 
Round 1: 2 February – 27 March 2017 
From 2 February– 27 March, videographers submit a 30-second showcase video that highlights their skills and talent.
Videographers can upload their video entry directly to the dedicated contest website. Videos may also be hosted on YouTube or Vimeo, with a link to the video submitted on the dedicated contest website or posted on Instagram using the hashtag #anantaraclubvideographer.
File size limited to 150mb.
Minimum requirements for entrants: two years' experience in videography, including shooting and editing; or a Bachelor's Degree in film, radio/TV or related area and one year experience in videography; or equivalent experience and/or education with comparable knowledge.
Round 2: 28 March – 15 May 2017 
Three finalists will be announced on 28 March 2017
The finalists will receive round-trip tickets and a 3-night stay at Anantara Vacation Club Mai Khao Phuket.
Finalists will create a one-minute video of the resort for submission by 30 April 2017.
Public voting for the winning video will be open on our Facebook page and our dedicated contest websitethrough 14 May 2017.
The Grand Prize winner will be announced on 15 May 2017.
The Grand Prize winner will receive round trip tickets to Thailand and Indonesia to visit four Anantara Vacation Club Resorts. He/she will enjoy 3-night stays at Club Resorts in Bangkok, Chiang Mai, Koh Samui and Bali.  While there, he/she will create a one-minute edited video of each property for publication on our online and social media channels. Final videos must be completed by 11 August 2017.
So, think you have what it takes? Apply now! We can't wait to see what you come up with.
Alternatively, feel free to head over to our contest page to vote for your favourite submissions.
For contest information and terms and conditions, visit http://www.anantaraclub.com/promo/video-travel-contest/
If you are interested in learning more about how you can take advantage of the many benefits of Vacation Ownership or have additional questions about what you've read, please email feedback@anantaraclub.com
Follow our social media platforms for daily travel inspiration: Twitter, Facebook, Instagram and Weibo or explore #anantaraclub