Planning a trip to Chiang Mai? Great idea – the city's seemingly endless variety of picturesque Buddhist temples, awe-inspiring natural scenery, Instagram-worthy restaurants and cafes and tantalizing street food make it an absolute must-visit on your next trip to Thailand.

As the Kingdom's Northern capital, Chiang Mai certainly holds its own and makes up for its lack of beaches by offering up just about everything else imaginable to the adventurous traveller. When we're not busy scootering up to the top of Doi Suthep, the city's highest mountain peak, or visiting one of the nearby ethical elephant sanctuaries, we love to get lost in one of its many expansive night markets.
With so many of them to choose from, we've highlighted some of our favourites and gathered together useful tips for you to know before getting your shop on. Remember, you can always bargain at the market. Start by offering 30% off the price that the vendor has quoted you, then go from there.
Saturday Night Market
Located on Wui Lai Road in Chiang Mai's downtown core, the Saturday market is – you guessed it – only open on Saturdays! Paying a visit to this market is a great post-dinner activity and is bound to keep you entertained for hours. The energy in the air is palpable, with thousands of locals and tourists flocking to the area to sample a range of mouthwatering street food, pick up bargain souvenirs, browse local artisanal wares or shop for inexpensive clothing items. You'll find just about everything here, and at incredibly affordable price points.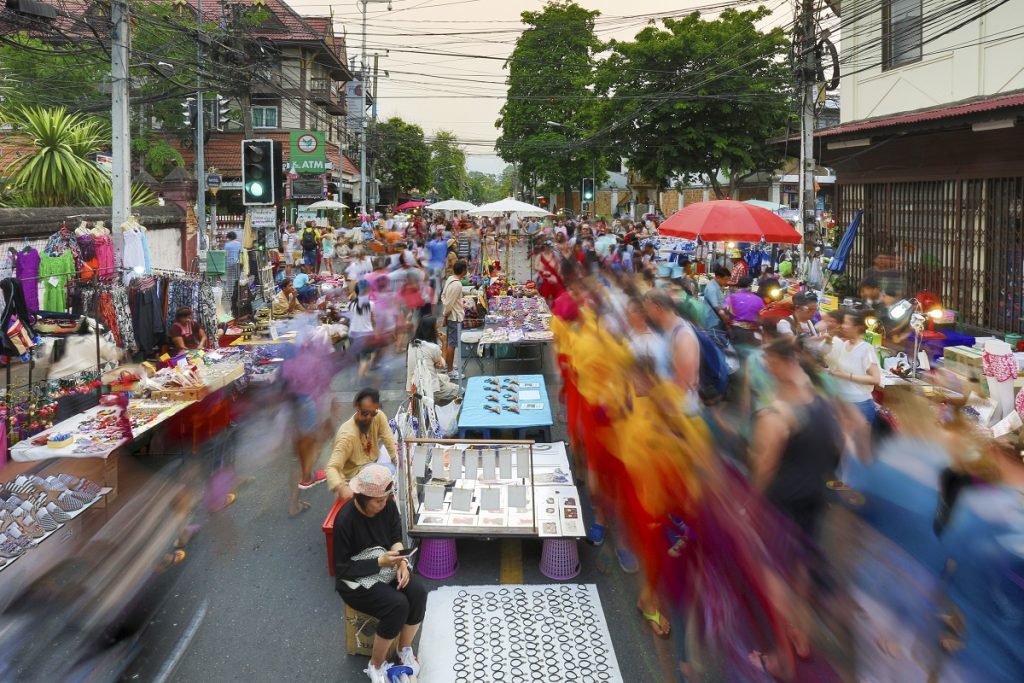 The street is closed to vehicular traffic, so you can stroll with ease. However, we recommend showing up as soon as the market opens around 5.00 pm to avoid the large crowds that gather later in the evening. Arrive on motorbike or by local songtaew (communal bus), as it'll be near impossible to find anywhere to park if you drive a car. Above all, before heading home, make sure to indulge in a foot massage along one of the market's lanes. Comfortable chairs are provided and the people watching is worth it.
The Saturday market is open from about 5.00 pm to midnight every week
Sunday Night Market
Conveniently positioned in the heart of Chiang Mai's old walled city, the Sunday Night Market shuts down one of the area's busiest streets to pedestrian traffic and sees hundreds of vendors flock in to hawk their wares. We've found the products sold here to have slightly more of an artisanal edge than the ones at the Saturday Night Market. To paint a picture, think locally designed dresses, handmade soaps, cutesy art pieces, trendy (but inexpensive) footwear and more.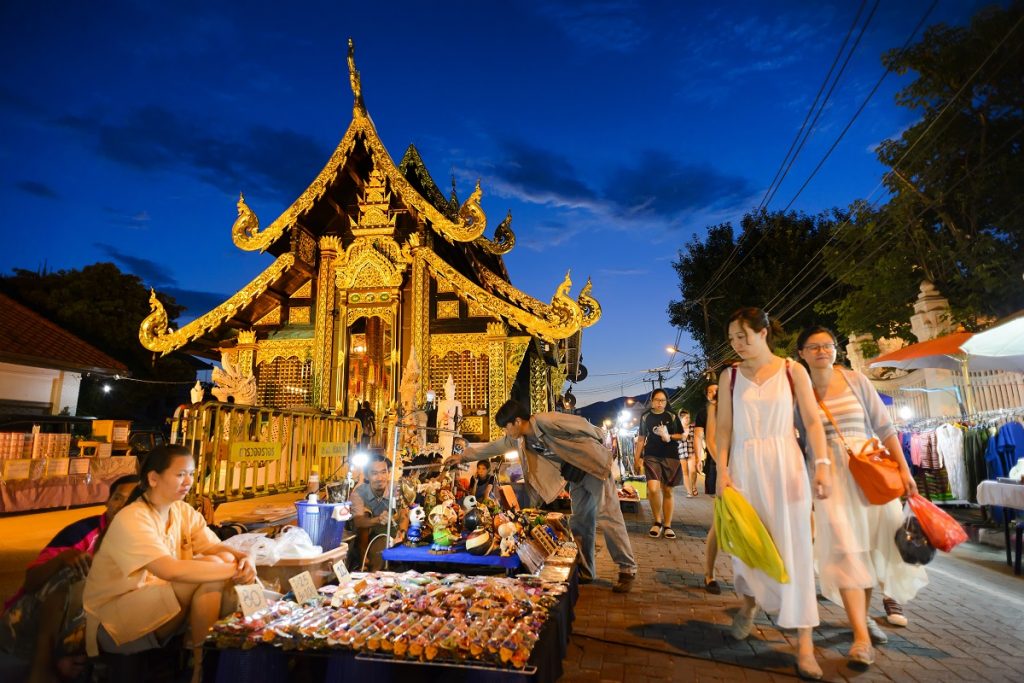 As always in Chiang Mai, there's more food than you could ever possibly sample. From mango sticky rice to grilled chicken skewers, panana pancakes and plentiful plates of pad thai, you certainly won't go hungry while shopping at the Sunday Night Market. With so many smaller market streets branching off from the main one, your eyes will have trouble taking all of the magic in.
The Sunday Night Market on Rachadamnoen Road is open from 5.00 pm to about 11.00 pm each week
Warorot Market
Foodies, take note! If you live to test new flavours and tuck into foreign dishes, the Warorot Market at Wichayanon Road should be high on your list. While the indoor part of the market is only open during the day, nightfall sees multiple vendors setting up to sell produce and a variety of street food treats and dishes outside. This is the ideal place to sample Thailand's renowned Northern cuisine, with virtually every variety of it on offer. Pull up a plastic bucket chair, leave any traces of reluctance at home and go into the market with an open mind. We guarantee you'll be more than surprised by what you find, and will spend the next months (or years) to come trying to imitate the dishes back home.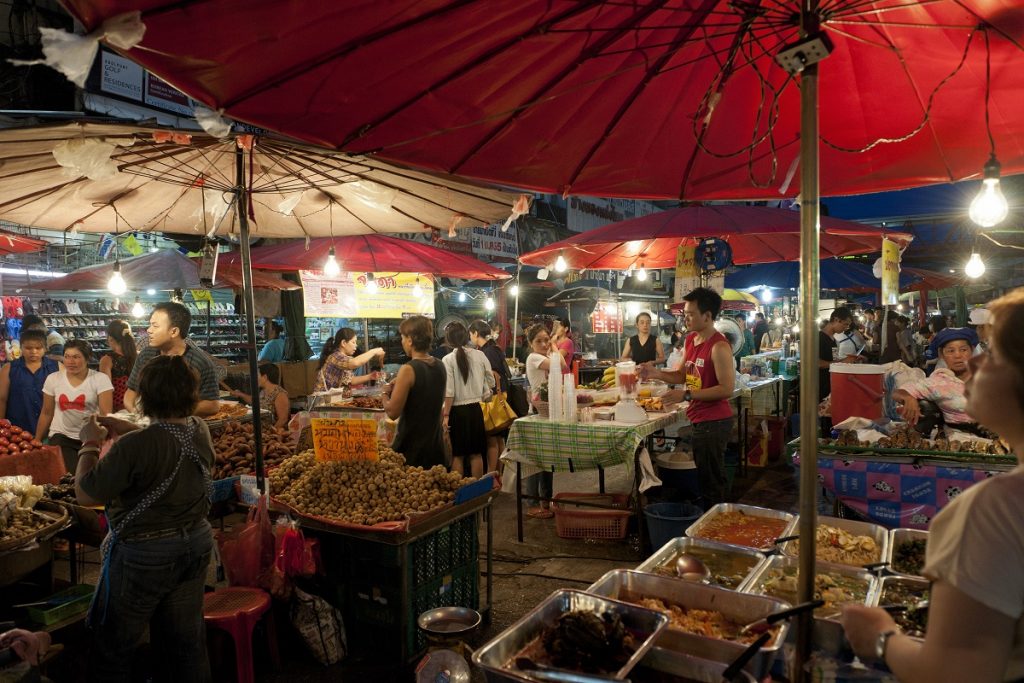 Travel tip: If you're unsure of what to order, simply have a look at what the patrons of each street food stall are eating. You can point to their plates or bowls to signal your choice to the cook.

The street food night market at Warorot Market is open from 6.00 pm to 10.30 pm daily.
Night Bazaar
While not our favourite of Chiang Mai's multiple night markets, the Night Bazaar is definitely still worth a visit if you're not in town on a Saturday or Sunday night. This market is slightly more commercialized than the others, being positioned smack dab along a popular daytime shopping street called Chang Klan Road. This is THE place to visit if you're looking for imitation designer goods such as clothing, shoes, electronics, handbags and luggage. It's a fun place to stroll around for the evening and pick up trinkets like a cell phone case, customized passport cover or fun costume jewelry.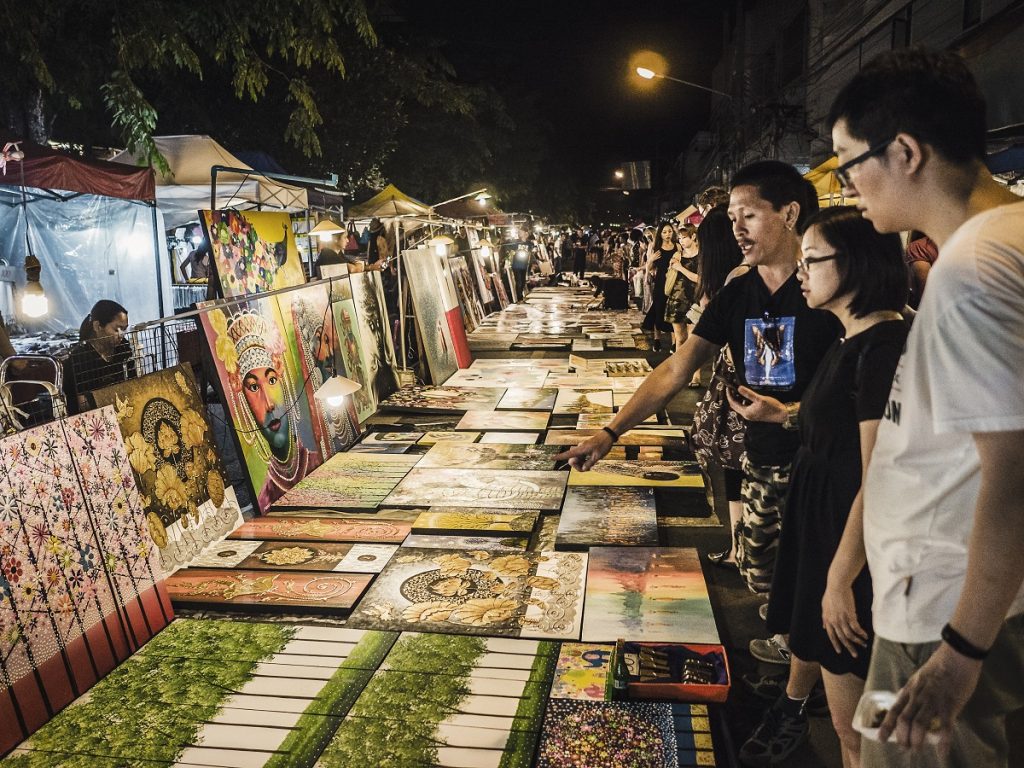 Don't miss the Chiang Mai Night Bazaar building, located about midway down the road. It's open to several local artisan vendors and is a great place to pick up souvenirs for friends and family back home. When you tire of shopping, pop by any of the busy pubs or restaurants along Chang Klan road for dinner or a drink.
The Night Bazaar is open daily from 6.00 pm to about 11.00 pm.
If you are interested in learning more about how you can take advantage of the many benefits of Vacation Ownership or have additional questions about what you've read, please email feedback@anantaraclub.com
Follow our social media platforms for daily travel inspiration: Twitter, Facebook, Instagram and Weibo or explore #anantaraclub