Samui is one of Thailand's largest islands, third only to Phuket and Koh Chang, and spans nearly one third of the size of Singapore. It is also a paradise for couples, with many choosing to tie the knot on its sandy shoes or swinging by to celebrate their honeymoons. Home to over ten scenic beaches and bays, let us take you on a journey across Koh Samui's ideal spots for lovers to spend an evening gazing into each other's eyes and dining on some of the best food the island has to offer this Valentine's Day.
On the water
First stop, Lamai Beach on Samui's east coast – just twenty minutes south of Koh Samui International Airport. Here, you'll find a special 224 square metre floating dock that is home to Ocean Pier by Latest Recipe, where guests can enjoy a stunning 4-course set meal while admiring panoramic views of the Gulf of Thailand. Open from 6.00 pm – 11.30 pm daily; a romantic private dinner for two is available for couples visiting on Valentine's Day. For a less traditional date, consider signing up for the restaurant's private Thai cooking class to learn how to concoct creations like a local!
On the beach
A short drive from Lamai lies Chaweng Beach, one of the liveliest on Koh Samui and home to a variety of memorable dining options including the popular Ocean Kiss by Anantara Lawana, open from 6.30 am – 11.00 pm daily. Peruse the hotel's stunning grounds before dining in the restaurant's scenic beach pavilions, just steps away from the ocean. Dine on a menu of renowned Asian dishes, including favourites from both Thailand and Indonesia. The restaurant offers a focus on health-conscious meals, with plenty of fish and seafood featured on the menu. A private barbecue can be arranged for couples who wish to dine in seclusion.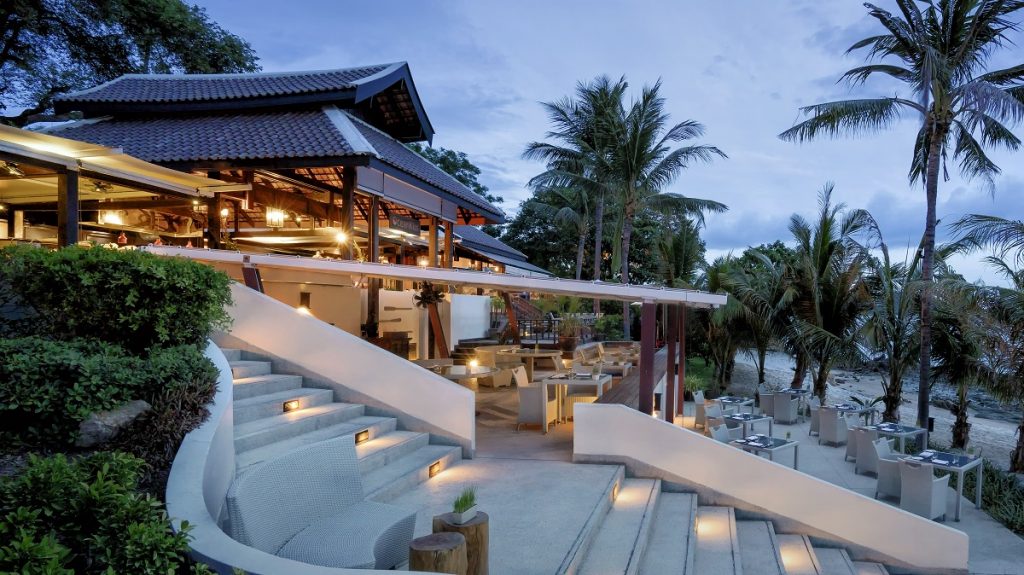 In the treetops
The Anantara Lawana Resort & Spa on Chaweng Beach is also home to one of Samui's top dining options that is a hit for both its food and its unforgettable atmosphere. The Tree Tops Sky Dining & Bar boasts just eight tables, with each being located in a gorgeous treehouse straight out of a fantasy novel. Reservations at this restaurant should definitely be booked in advance, as it is a popular haven for fine dining and photo op enthusiasts. The menu emphasizes seafood and red meat, with highlights including the Rougie Foie Gras and Scallop, Mediterranean Lamb and Snow Fish. Dinner is served from 6.00 pm to 11.30 pm, with a first seating from 6.00 pm to 9:00 pm and a second from 9.00 pm until late.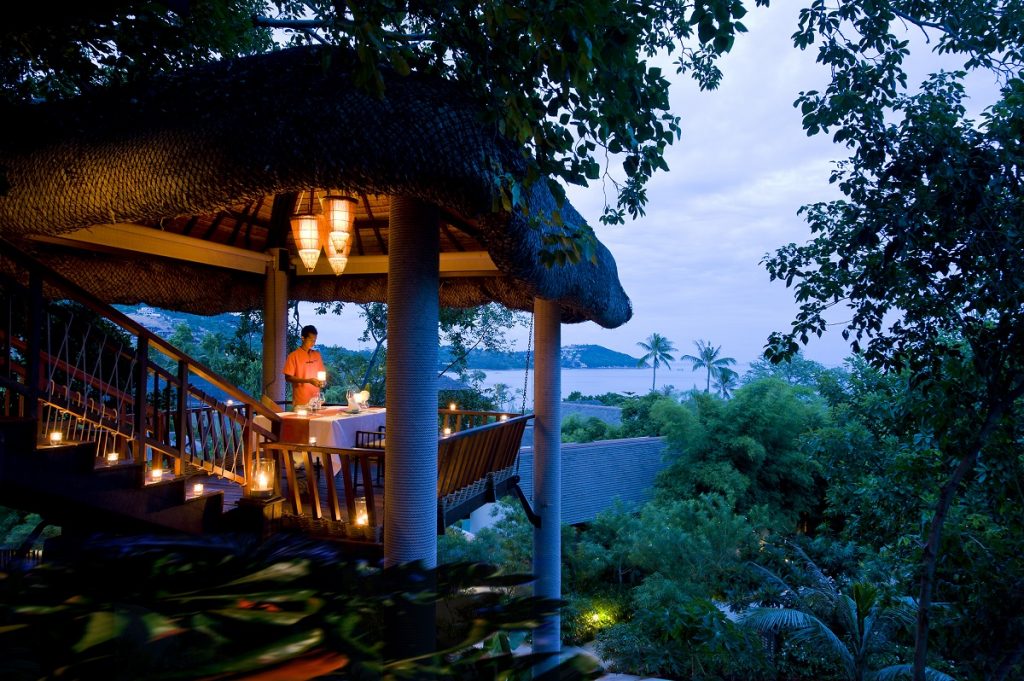 On the rocks
A few beaches over, you will find yourself on the northern side of Koh Samui, home to the quaint fishing village of Bophut and the famed Big Buddha and Bangrak Beaches. Nestled on Big Buddha is the ideal destination for those who enjoy avant-garde gastronomy and dining on the edge – in this case, on a platform that provides a 270-degree view of the ocean with sunsets and the island of Koh Phangan strikingly visible on the left. Prepare to be stunned by the award-winning Dining on the Rocks' exotic minimalism and culinary offerings, which are a feast for both the eyes and the palate. Open from 6.00 pm until whenever guests head home.
Under the stars
A flame-lit beachfront dinner for two under the stars can also be found in Bophut at H Bistro at Hansar Samui, which offers butler service and ocean views. Guests can indulge in French Mediterranean and Thai cuisine by executive chef Stephen Dean Jordan, formerly a Private Chef to H.M. the King of Jordan. The "Dining Under the Stars" experience in particular features dishes including Fresh Maine oysters and lobsters flown in directly from Canada, Japan and France. Dinner is served starting from 6.30 pm, with last orders taken at 10.30 pm. Private Thai cooking and cocktail classes are also available.
In the boudoir
A short way over from Bophut lies Maenam district – home to The Boudoir, Samui's no. 2 restaurant as picked by TripAdvisor guests and the top restaurant in Samui in 2016 as chosen by Hotels.com. If you and your partner are hoping to dine in opulence, you will find yourselves enamoured by the mélange of French and Middle-Eastern décor on offer – with the restaurant swathed in a hundred scintillating tones of red. This is a cosy location to get your fill of Provencal French cuisine, from escargots to Cognac and foie gras. Open from 6.00 pm to late, closed on Mondays.
If you are interested in learning more about how you can take advantage of the many benefits of Vacation Ownership, please email feedback@anantaraclub.com or visit our Special Offers page.
Follow our social media for some daily travel inspirations: Twitter, Facebook, Instagram and Weibo or follow #anantaraclub