At Anantara Vacation Club, we are lucky enough to be in good health and lead comfortable lives made possible by a stable career. We recognize that these are not circumstances extended to everyone, and make sure that we are constantly developing new initiatives to lend a helping hand, give back and support the less fortunate. Everybody deserves to experience a safe, well balanced existence and we routinely contribute to the best of our abilities to make that possible for those we encounter.
Here's a look back at how we worked towards providing help to the Thai community in 2016.



January 2016 – Food Fun Fair
Our team members sold tasty fruit salad to hundreds of our Minor International colleagues and passerby at BJC Building – a downtown Bangkok office tower. All proceeds from the sale were donated to a temple in Lopburi, Thailand towards its upkeep and supporting the monks who worship there.
February 2016 – Care for Cancer 2016 Fun Run
We ran, jogged and pushed ourselves to our physical limits in Bangkok's high heat in a bid to help raise  funds for Cancer Research at Chulalongkorn Hospital through the Care for Cancer 2016 Fun Run. Spending the day outdoors in Lumphini Park was a great way to promote health awareness and help our team members stay fit!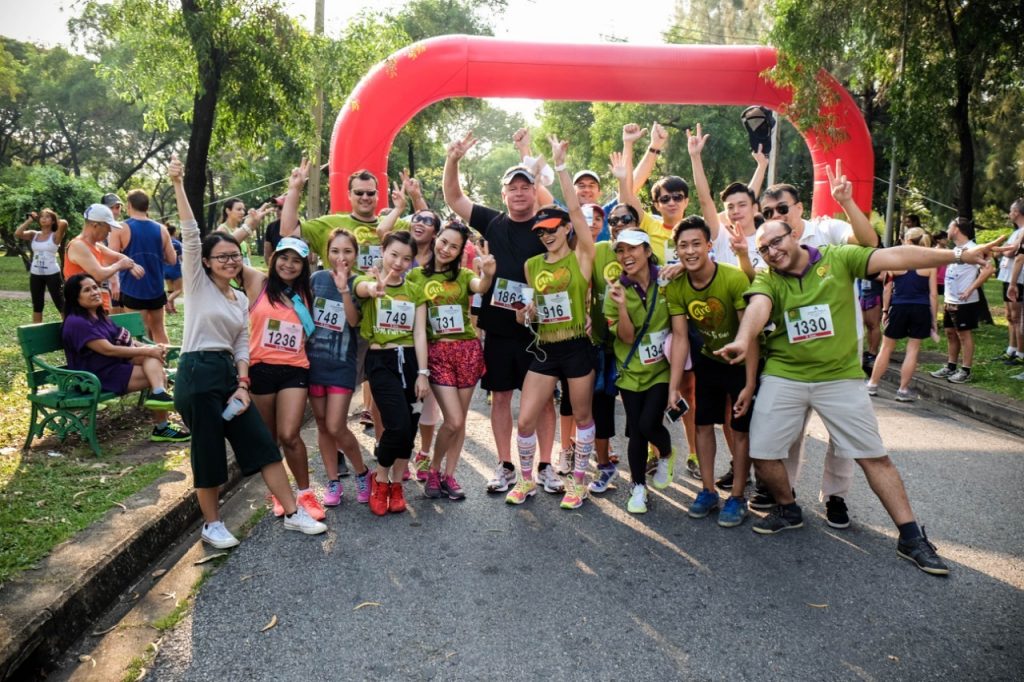 March 2016 – Elephant Polo & Phanda Joins The Team

Anantara Hotels has hosted the King's Cup Elephant Polo Tournament for 14 years, helping the event raise over USD 1.3 million towards the care of maltreated elephants. Our management figures purchased several tickets at THB 5,000 per person in a bid to help these gentle giants, and we had booths on-site selling candy and offering fun photo opportunities! There were also several activities held on site to entertain children with disabilities.
In an additional effort to spread awareness about elephant cruelty, we acquired our Phanda mascot in a charitable auction. Created by artist Note Dudesweet, she is a 1.5 metre tall baby elephant painted to resemble a panda. Phanda travelled to several of our resorts across Asia in 2016 to bring attention to the maltreatment that Thailand's national animal routinely faces in a positive manner.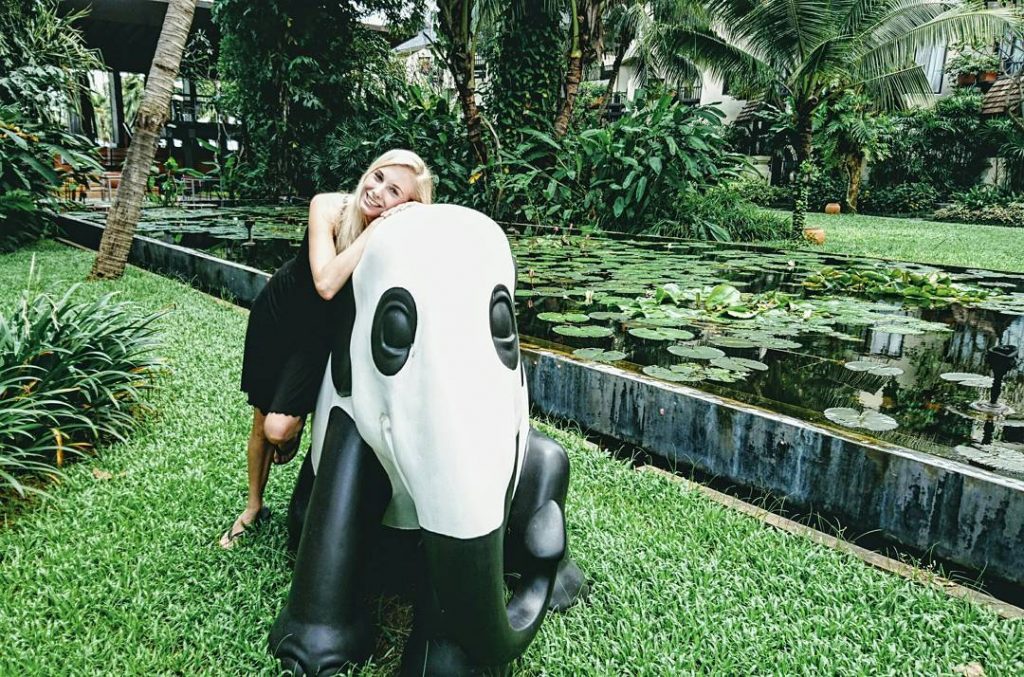 April 2016 – Foundation for Slum Child Care
We collected donations from our team members in our head office for Bangkok's Foundation for Slum Child Care. We firmly believe that every child has the right to a happy life, and that it is our duty to do all that we can to ensure that they have one.
May 2016 – Bangyang Pittayakarn School
Our team members visited the Bangyang Pittayakarn School in Samutsongkarm to host a fun scrapbooking activity and provide donations to buy new food trays and stationary for its students. The children had a great time creating their colourful scrapbooks and expressing their artistic talents!
June 2016 – Minor Founder's Day
In honor of Minor Founder's Day, we visited the Wat Bang Yang School and cleaned its Grade 1 and Grade 2 classrooms in an effort to give back. Our team members painted the floor in front of the classrooms with hopscotch and snakes and ladders patterns, putting a big smile on all of the children's faces! We worked alongside Minor Hotels' team members to develop the school as a whole, with various departments contributing to fixing its classrooms, improving its facilities, updating its dining area and landscaping its grounds.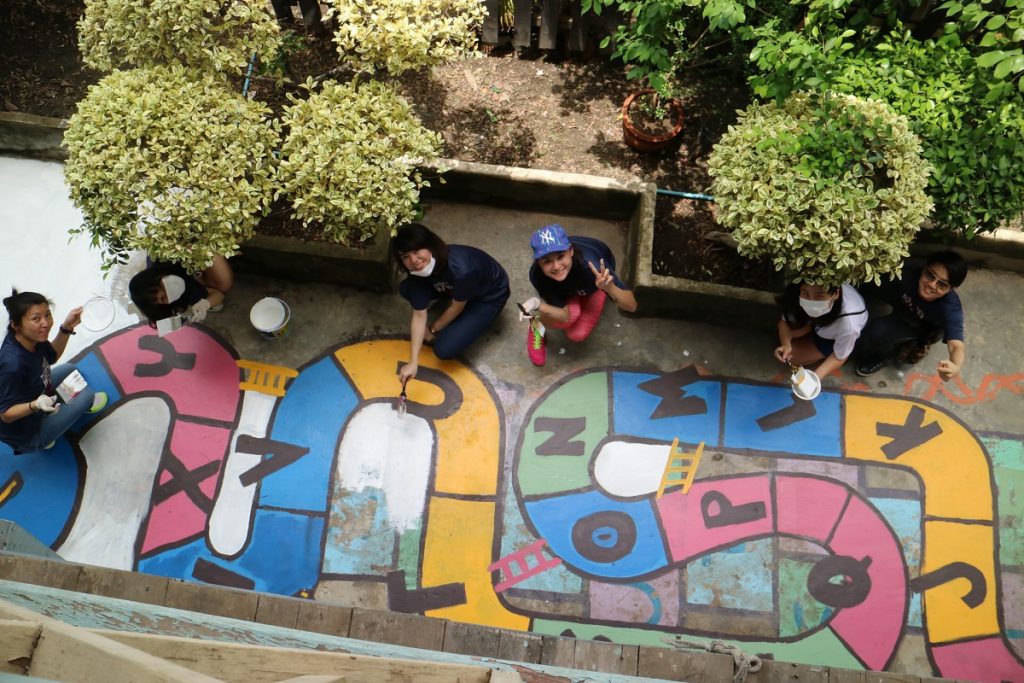 July 2016 –Kredtrakarn Shelter
Many young women cannot help the domestic circumstances they were born into. We visited the Kredtrakarn Women's Shelter in Nonthaburi to provide assistance to girls between the ages of 6 and 18 who are the victims of social issues. We donated milk, clothing, feminine products and appliances to the young women and engaged in recreational activities with them to try to brighten their days.
August 2016 – Baan Dek Ramindra School
We visited the Baan Dek Ramindra School to provide monetary donations to blind and disabled children. We sang and played games with the children, then read to them and typed with the blind. Afterwards, we all enjoyed Swensen's ice cream and a Burger King lunch!
September 2016 – Wat Saharatbamrung School
We visited the Wat Saharatbamrung School to spread our knowledge of the English language and provide some fun filled English classes to its students! Learning English helps broaden students' future career prospectives and it was our absolute pleasure to teach these young learners some of the basics.
October 2016 – Sanam Luang, The Grand Palace
Following His Majesty The King Bhumibol's passing on 13 October 2016, we volunteered to help clear the grounds of Sanam Luang, The Grand Palace and contribute to keeping them clean as thousands of mourners visited to pay their respects. We also gave awaycold water bottles and towels to help visitors stay cool and dry in Bangkok's high heat.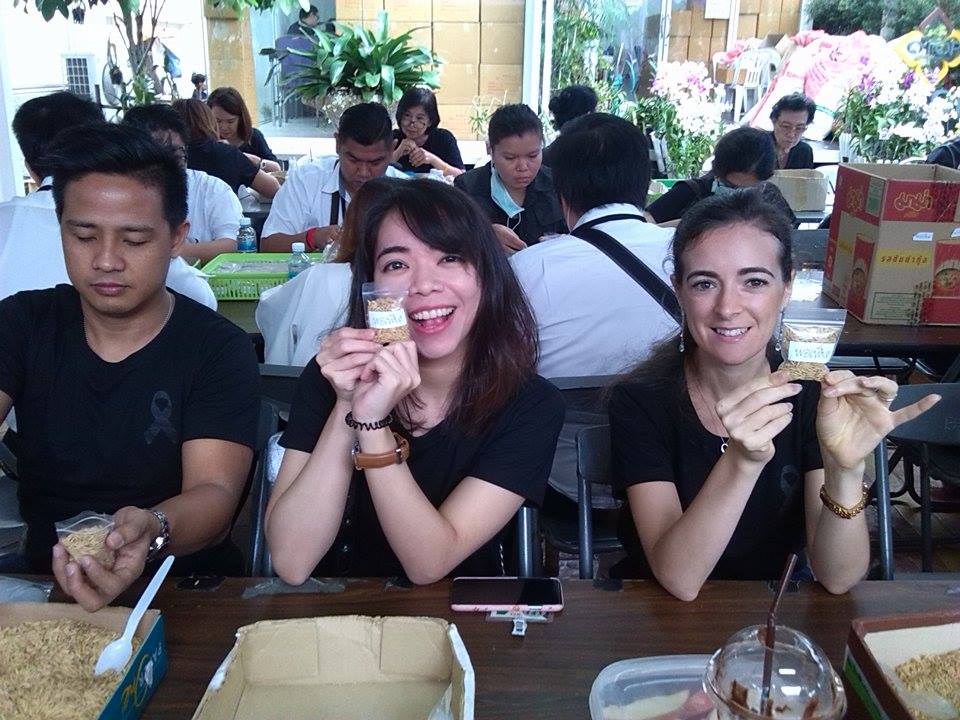 November and December 2016 – Rice Packing
In November and December, we helped pack rice at Thailand's Government House to give to mourners coming to pay their respects to the late His Majesty The King Bhumibol. Many Thai citizens travelled from far and wide across the country to visit the Grand Palace, and ensuring that they had enough to eat was important to us during this national period of mourning.
If you are interested in learning more about how you can take advantage of the many benefits of Vacation Ownership, please email feedback@anantaraclub.com or visit our Special Offers page.
Follow our social media for some daily travel inspirations: Twitter, Facebook, Instagram and Weibo or follow #anantaraclub