Sana Ashraf and family recently enjoyed 8 amazing days in New Zealand with a little help from Anantara Vacation Club. Read below to hear more about their adventures!  
New Zealand was never in our travel plans due to the distance of travel and accommodation expenses but with the help of Anantara Vacation Club, we were able to visit this amazing and beautiful destination, and witness a true paradise on earth! Our trip lasted 8 days, with 2 days in Auckland and the rest spent in Queenstown.
Day 1: Devonport, Auckland
We arrived at Auckland from Dubai, and our plan was to spend 2 days here. After checking into the hotel, we went to Devonport which is a quaint village approximately 15 minutes away from Auckland by ferry. The trips are scheduled every 30 minutes. Once there, we first climbed Mt. Victoria, which was a tad bit strenuous, however, the views from the top are breath-taking and made the trek worthwhile!
From the top, there are amazing views of the city of Auckland and its harbour. After spending some quality time there, we headed back down, and took a stroll through the streets lined with Victorian-styled buildings.
Day 2: Waitakere Ranges, Auckland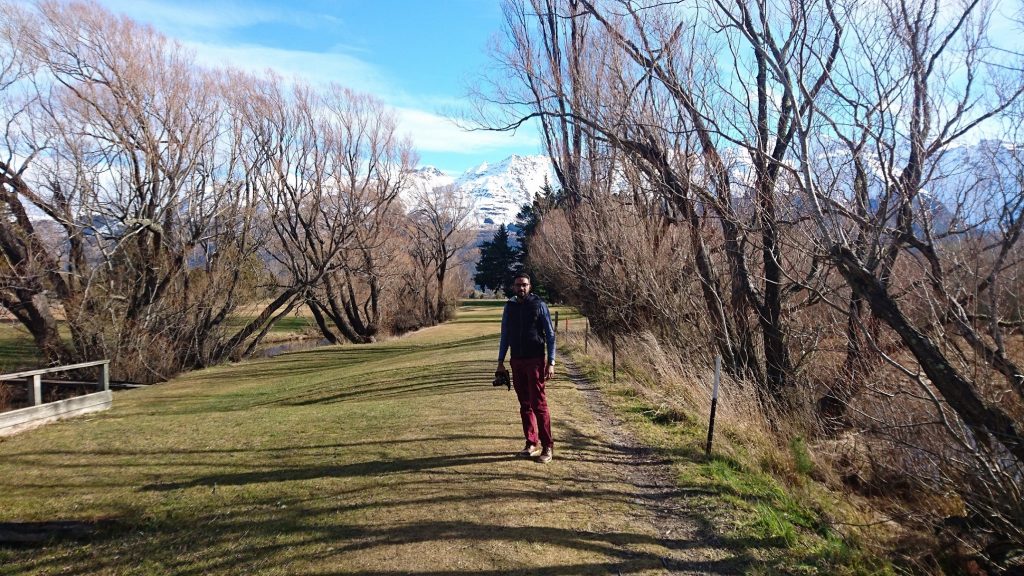 Waitakere Ranges Regional Parks includes 16,000 hectares of forest and coastline. It took us about an hour by car to reach, including some pit stops for refreshments and photos. The park is a maze of hiking trails, which prompted us to choose ours prior to our visit. We chose the "Mercer Bay Loop Walk" which has stunning views of the ocean, mountains, skies and every beautiful thing in between! The walk was not a very easy one, but if our 4 year old could manage most of it herself, then so can you!
After having our picnic lunch (there aren't any restaurants around), we headed to the Kite-kite falls which is quite an easy trail. The falls are at the end of a 30 minute trail, and the area around is very serene. We noticed that there weren't many people in either location, so you can take your time to enjoy the scenic views and snap a million pictures.
Day 3: Auckland City Tour, Mt. Eden, and Arrival at Anantara Vacation Club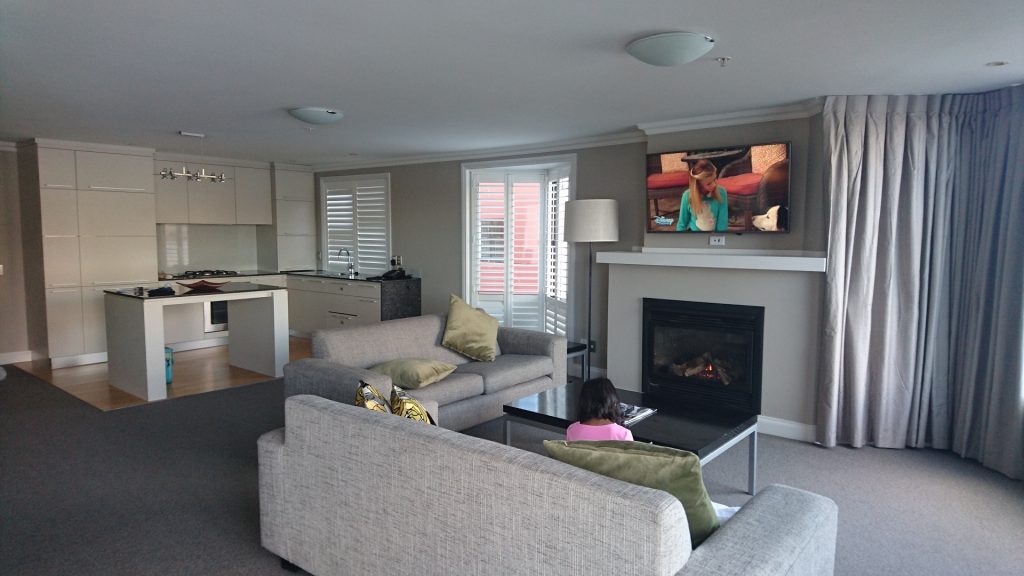 We hopped on a public transport bus and saw different parts of the city en route to Mt. Eden, the highest Natural Point in Auckland. The steep climb up rewarded us with amazing 360-degree views of Auckland and the inside of the volcanic cone. There is also a nice park at the base for kids to play and adults to relax. After that, we headed straight to the hotel to pick up our luggage before our flight to the adrenaline capital of New Zealand – Queenstown!
After our flight, we were happy to check-in to our 2 bedroom suite at Anantara Vacation Club at Oaks Shores Queenstown. We were provided with codes for unlimited Wi-Fi throughout the length of our stay, and the suite was complete with 2 bedrooms and featured electric blankets and attached bathrooms, a fully equipped open kitchen with cooker, dishwasher, kettle, microwave, and a good set of cooking/serving dishes and cutlery, a sitting room with a cosy fireplace, plush sofas and television, and a dining area with a large table for 6 people and a balcony with table and chairs. The suite also had a washing machine and dryer with regular refills of washing powder. The rooms were maintained by the house-keeping staff on a daily basis.
The views from the window were just like a post-card, with ice-capped mountains rising out of the calm blue waters of Lake Wakatipu. We could just sit there for the whole day taking in the views from the comfort of our room! The resort had long walking tracks along the lake perfect for early-morning or evening walks. The resort also has a shuttle bus that runs to and from the town, but needs to be booked in advance.
Day 4: Skyline Gondola & Road Trip to Arrow town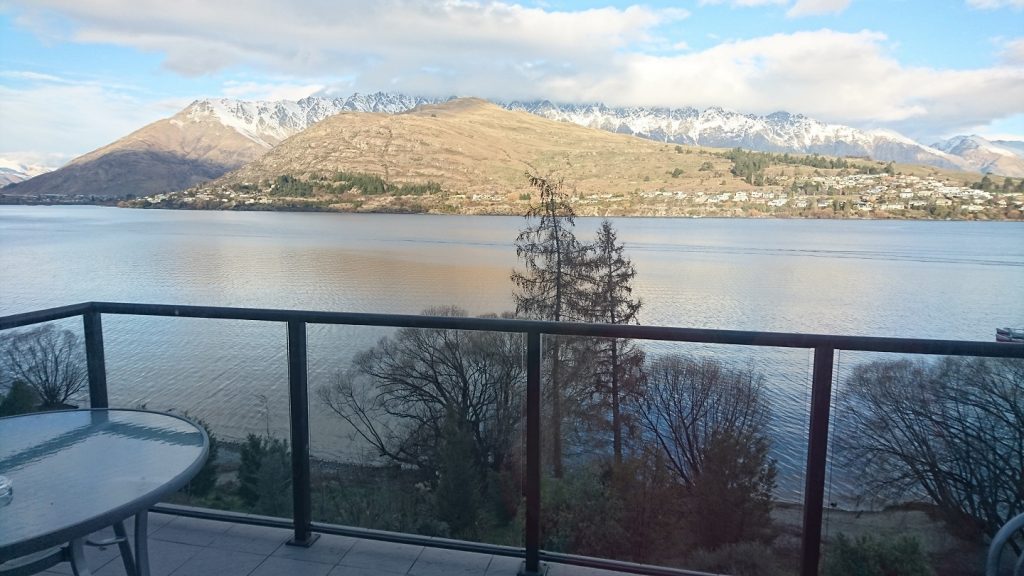 We decided to entertain our 4-year old, so we chose the Skyline Gondola as an activity both kids and adults can enjoy. We had booked our tickets online, so it was only a matter of getting them printed upon presenting our online vouchers. We hopped onto the gondola and up it rose, giving us different views of the vast Wakatipu Lake. Once you reach the top, the view only gets better! After a few rounds of luging, we ate fish and chips from the restaurant and made out way back down.
The next destination was Arrowtown, a charmingly historic town, about 35-40 minutes away from Queenstown by car. We first went to see the old Chinese Settlement Area and then headed to a café to sip a cup of coffee and just sit back to absorb the vibe of this pretty little town. After that, we walked to the Arrowtown River and took a short stroll as the evenings made the air very chilly.
Day 5: Road Trip to Te Anau
Our next trip was supposed to be to Milford Sound, but weather didn't permit us to go beyond Te Anau. On our way to Te Anau, we stopped by a local honey distributor called "Hunny Shop" and bought a jar of Manuka Honey. Upon arrival to Te Anau, we went on our pre-booked guided tour of the Glowworm Cave, which was a unique and exciting experience. Everything from the boat trip to the cave interiors, the sound of gushing water and finally seeing the glow worms on the cave walls was a surreal experience. Definitely one-of-a-kind!
Day 6: Shotover Jetboat Ride and Road Trip to Glenorchy
No trip to Queenstown is complete without some adrenaline-pumping activities! With our 4-year old present, we were glad we could at least go on the Jetboat ride on the Shotover river. A must-try for people of all ages! The agile boat and its driver expertly navigated the canyons and curves, and we thoroughly enjoyed the experience! After that, we set off for Glenorchy, which is about 45-50 minutes from the town. We wanted to go on the horse riding tour, but were turned down due to our 4-year old. So instead, we walked through some peaceful nature trails and ventured onto the Glenorchy Boardwalk. Later, we walked around the Glenorchy lagoon and golf-course. On our way back, we stopped by the Rees-river for some photographs.
Day 7: Self-drive trip to Snow-farm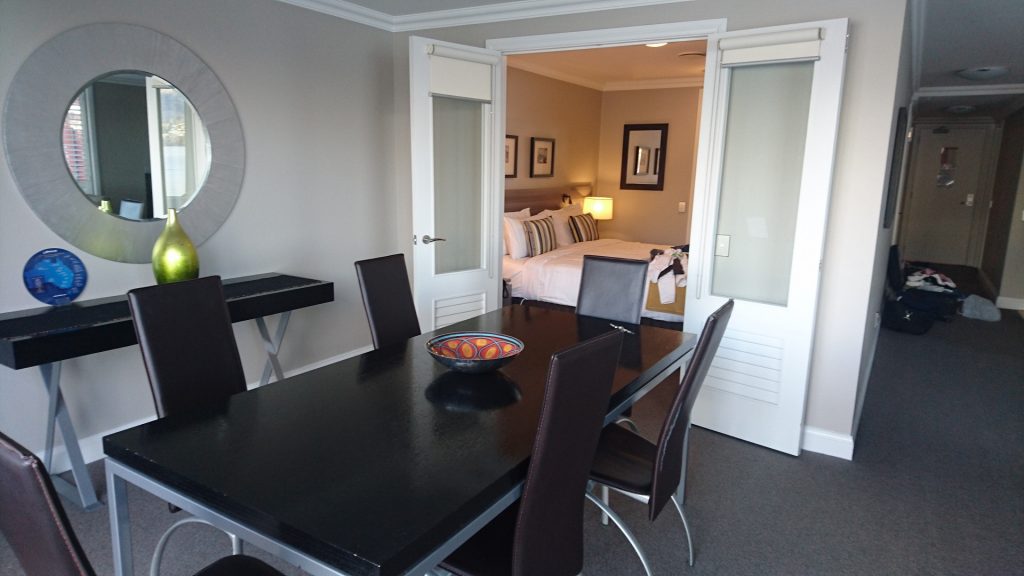 In our search for a child-friendly and economical ski site, we ended up at Snow-farm. Being first-time skiers, we weren't sure of what was to come and hence didn't want to break the bank! The drive up is pretty long with many hairpin curves. Once arrived, we signed up for the half-day ski lesson and learnt the basics of skiing. They also have a few sleds and tubes for kids! Ski-shoes and skis are included in the package, however, ski clothes must be bought or rented from the town. We all had a great time at Snow-farm!
Day 8: Saying Goodbye
We checked out of the resort with some amazing memories of New Zealand's picturesque landscapes. We had a very pleasant stay at Oaks Shores – Queenstown and we are grateful to be a part of the Anantara Vacation Club, without which, we might have not seen this amazing country so soon!
If you are interested in learning more about how you can take advantage of the many benefits of being Club Point Owners or have additional questions about what you've read, please email feedback@anantaraclub.com
Follow our social media platforms for daily travel inspiration: Twitter, Facebook, Instagram and Weibo or explore #anantaraclub.