The Grand Palace, Wat Pho, Wat Arun….they are the Bangkok tourist attractions most people mark on their map when they visit for first time, but what if you're a returning visitor, keen to explore places off the beaten track? There are many hidden gems to discover in the City of Angels and we have put together a list of some of our favourites!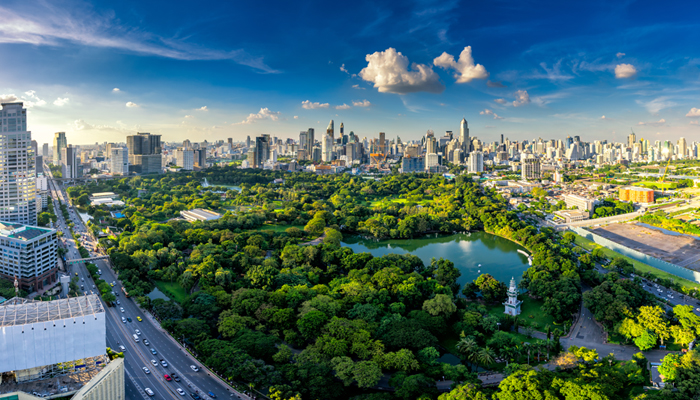 Planes and trains in the marketplace
Giant skull sculptures, quaint cafés built from old windows, and a Lockheed L-1011 TriStar aeroplane rising above rows of stalls…welcome to the quirky Chang Chui night market. This creative hub is where you'll find local designers, artisans and hipsters selling their wares. From vintage clothes and cameras, to hand painted greeting cards and lemongrass infused soap – the market is full of amazing gifts and souvenirs, as well as some great live music venues and restaurants. The creators must have been fans of Instagram because there's barely a corner of this imaginative hub that's not photo-worthy thanks to colourful graffiti murals and a bunch of wacky sculptures. But the true Insta-star of Chang Chui is definitely the old L-1011.
From one mode of transport to another, Talat Rot Fai (otherwise known as the Train Night Market) is a lively open-air bazaar that sells a huge range of antique furniture, vintage collectables and street food snacks. You'll find VW vans turned into mini art galleries, wooden shopfronts teaming with vinyl records, retro bikes, lava lamps and a whole lot of other stuff that will make you want to take plenty of photos in between your purchases.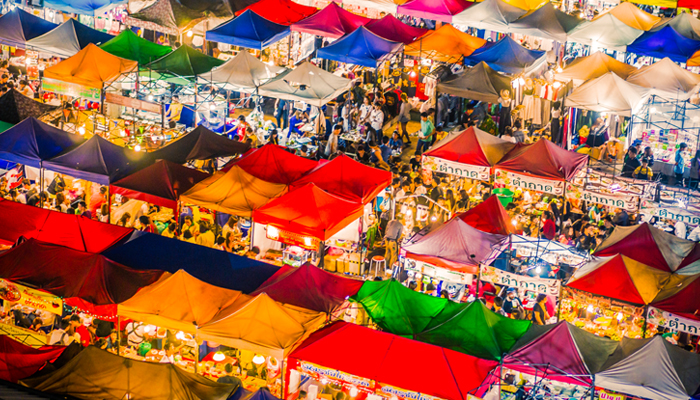 The Green Lung
It's hard to believe that such a picturesque pocket of palm trees and mangroves exists so close the metropolis that is Bangkok, which is why Bang Krachao is affectionately known as The Green Lung. Just a short boat ride across the Chao Phraya River you'll find this oasis where life continues to exist in the slow lane.
The best way to explore the area is by hiring a bicycle at the pier and setting off on one of the many elevated concrete footpaths that snake through the jungle. There are sweet little coffee shops where you can pause for refreshments while you explore. Keep an eye out for kingfishers, giant monitor lizards, pythons and turtles. On the weekend, be sure to head to the floating market.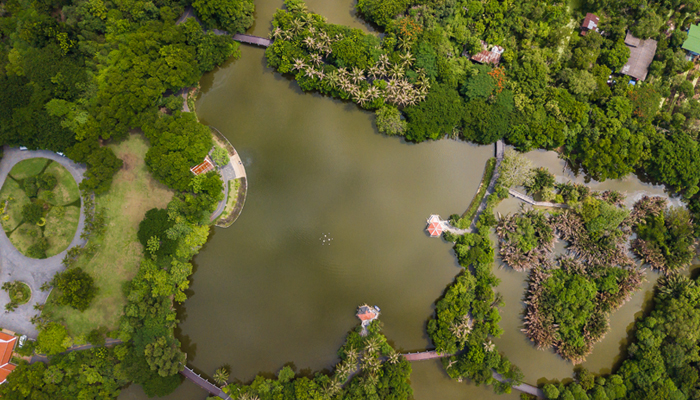 From Pad Thai to Som Tum
Of all Bangkok tourist attractions, one of the most notable is the famously delicious and cheap street food – from the famous Pad Thai noodle dish to the tangy Som Tum papaya salad. A fun way to tantalise your tastebuds is to sign up for a Best Eats Midnight Food Tour which will have you trundling down alleyways on a tuk tuk and stopping to sample sweet and savoury snacks in hidden neighbourhood eateries.
Cooking classes are another wonderful way to familiarise yourself with Thai food and impress friends at your next dinner party when you get home. There are many classes to choose from and most include tours of the morning markets to buy ingredients before you begin creating in the kitchen. We highly recommend Cooking with Poo and Friends – not only because the classes are top notch but also because part of the profits go into improving the lives of those living in Khlong Toey slum.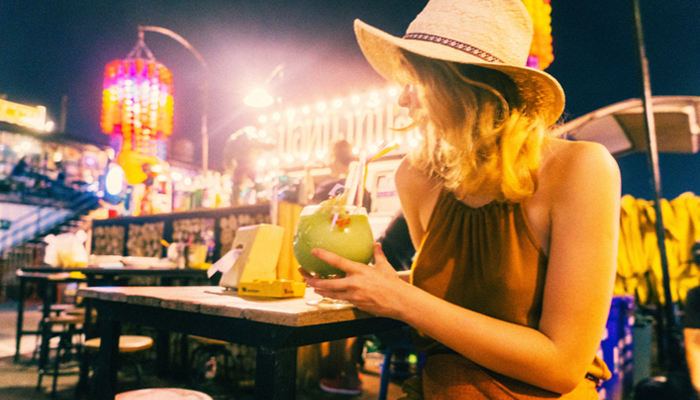 Ko Kret pottery island
Just a hop, skip and jump from the heart of the bustling Bangkok tourist attractions, you'll find the peaceful island of Ko Kret on the Chao Phraya River. The island is known for kwan aman – a style of Mon pottery which features intricate patterns carved into unglazed terracotta clay. There are plenty of workshops around the island where you can watch locals tending to their pottery wheels and, if you like what you see, purchase a candle holder or earthen cooking pot. There's also a museum on the island where you can learn about the history of this beautiful craft.
Apart from pottery, Ko Kret offers visitors some stunning temples to visit and rural hamlets to cycle through. It's also a great place to sample Mon food, with open-air restaurants dishing up kanom jeen (fermented rice noodles usually served with curry) and khao shae (jasmine rice in ice water with a side plate of shredded pork, shrimp paste and green chili).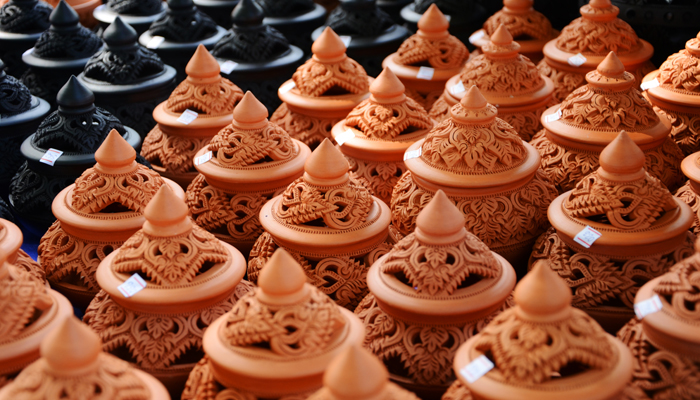 Bangkok beats
If you wish to explore the musical side of the Bangkok tourist attractions, there's no cooler location to lap up the sonic culture of BKK than Studio Lam, where on any given night of the week you can hear DJs mixing the old school sounds of molam (a traditional style of music that originates in north eastern Thailand) with global beats. If you're lucky, you'll time your visit to coincide with a performance by one of Thailand's most successful music exports – The Paradise Bangkok Molam International Band – which features a 76-year old khaen (bamboo mouth organ) player who knows how to groove.
If blues is more your thing, head to the iconic Saxophone Pub where live bands play seven nights a week or the hole-in-the-wall Adhere 13th Blues Bar. For heavy metal, there's The Rock Pub – and for a taste of modern jazz performed by some of Bangkok's most talented players, head to Brown Sugar.
For more ideas on Bangkok tourist attractions, check out some of our previous posts!
Feed Your Senses in Bangkok's Chinatown
Touring the Vibrant Waterways of Bangkok