When many of us think of China, a tropical beach destination is probably not the first thing that springs to mind. Images of the masses gathered to visit Beijing's famed Tian'an Men Square and visuals of Shanghai's gleaming skyscrapers lit up at night are probably more along the lines of what travellers envision. The country is a fascinatingly alluring destination, but it isn't necessarily famed for its beaches – or is it?

While still not yet as popular of a choice for a laidback sandy getaway as its Thai, Malaysian or Philippino counterparts, Southern China's Hainan Island has emerged as the country's very own Hawaii.  Here, stunning natural scenery and near-perfect weather take precedent, a far cry from the large crowds and less than ideal air quality that the country's megalopolises have become known for. And the city of Sanya, home to one of our eight Club Resorts, lies at the epicenter of all that the island has to offer.
Probably the single greatest benefit of holidaying in this resort paradise is how relatively unknown it still is on the world map. Beyond the steady streams of Chinese and Russian visitors who flock to the island for its tropical appeal and laidback vibe each year, the Sanya hype has still yet to reach the masses – lending an authentic feel to the destination. What better time to take advantage of a long weekend on China's most appealing island than now?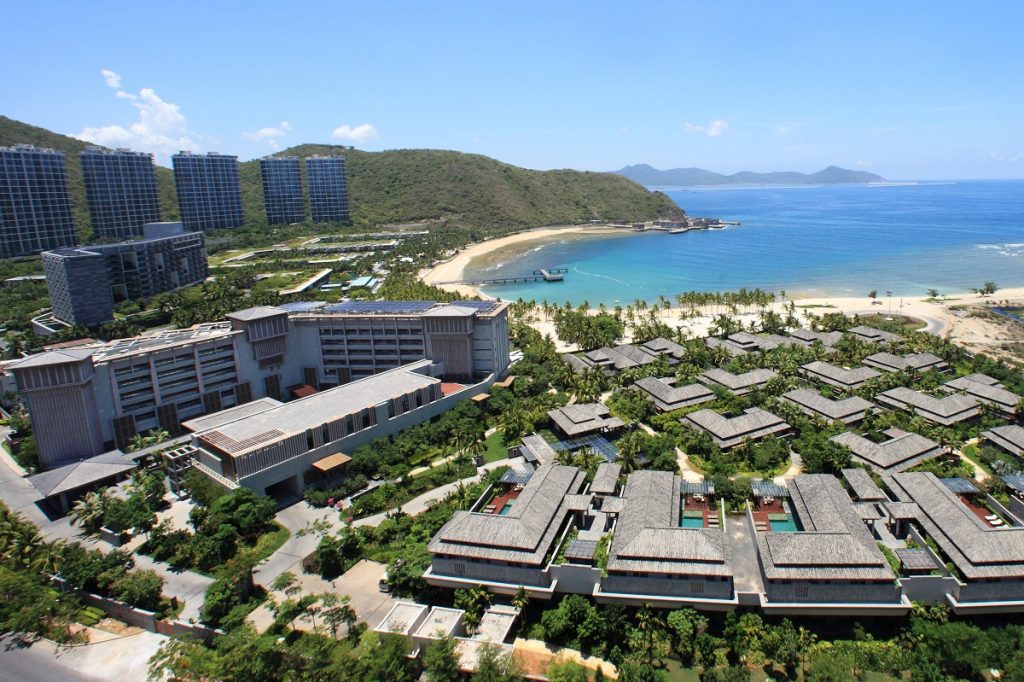 What to see
Nature lovers, rejoice. Hainan Island offers a seemingly endless array of awe-inspiring outdoor sights to see, all located within a 40 kilometre radius of Sanya.
Yalong Bay – Located 7.5 kilometres southeast of Sanya City, this crescent-shaped bay serves up some of the most scenic spots in all of Hainan Province. A visit here will leave you feeling as though you've stepped into a postcard, with its sweeping green hills, vivid blue waters and sandy beaches.
Tianya Haijiao – If you'd like to check out another beach while in Sanya, pay a visit to Tianya Haijiao – Chinese for "edge of the sky, rim of the sea". Its impressive rock formations are bound to impress any history buff, and it makes for the perfect spot to take a dip in the South China sea.
Nanshan Temple – Arguably Hainan Island's most popular attraction, the Nanshan Temple is the largest Buddhist preaching site in China. Visit to learn more about the religion, and make sure not miss out on the tasty vegetarian food nearby!
Nanwan Monkey Island – Don't miss a visit to this state-protected nature reserve for macaque monkeys, especially if you've got children in tow. It's accessible by China's longest over-water cable car, which makes it worth the trip alone.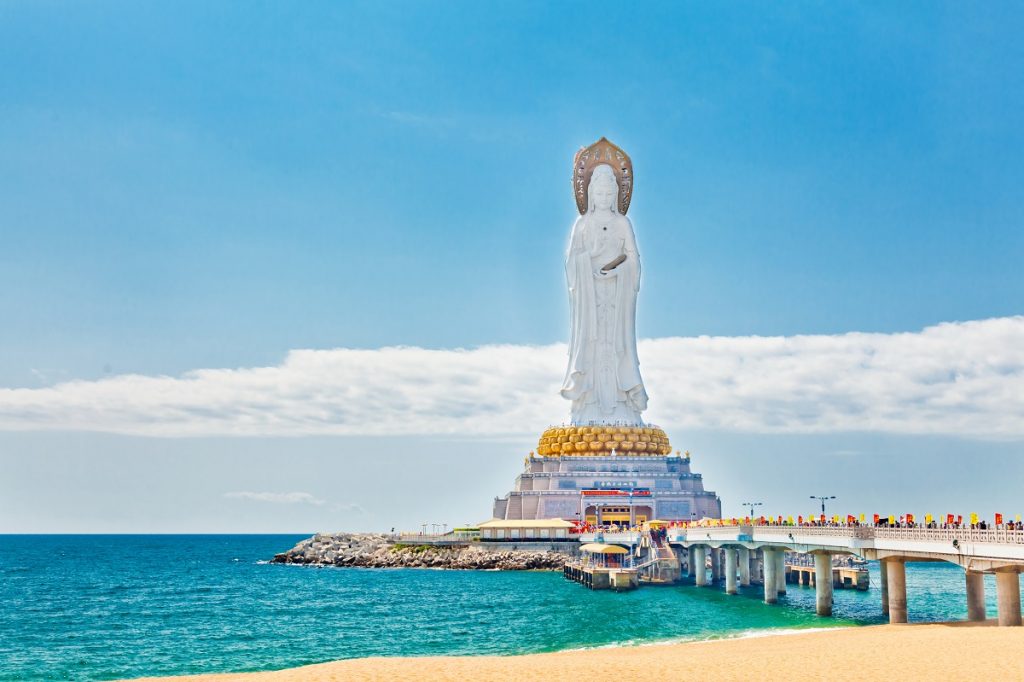 What to do
With its tropical climate and lush vegetation, Hainan Island practically begs visitors to embark on a host of outdoor adventures. Try to learn a bit about the area's history while you're at it, as its indigenous ancestry is ripe with stories to share.
Yalong Bay Tropical Paradise Forest Park – Take our word for it, this is the ultimate place to go hiking near Sanya City. Catch unforgettable views of the surrounding scenery by making friends with some of the park's many mammal and reptile inhabitants.
Zhujiang Nantian Spa – Housed in the Zhujiang Nantian Resort, this hot spring spa is a must-visit for those hoping to relax, unwind and recharge. Choose from an assortment of different hot and cold pools and leave feeling completely rejuvenated.
Golfing – Get your golf on at one of Hainan Island's 27 golf courses! With unparalleled surrounding views of the area's natural scenery, take advantage of one of the best environments to golf in Asia.
Binlang Ethnic Village – History buffs can familiarize themselves with Southern China's ways of the past at this ethnic village, which showcases how the Li and Miao Tribes used to live in the area.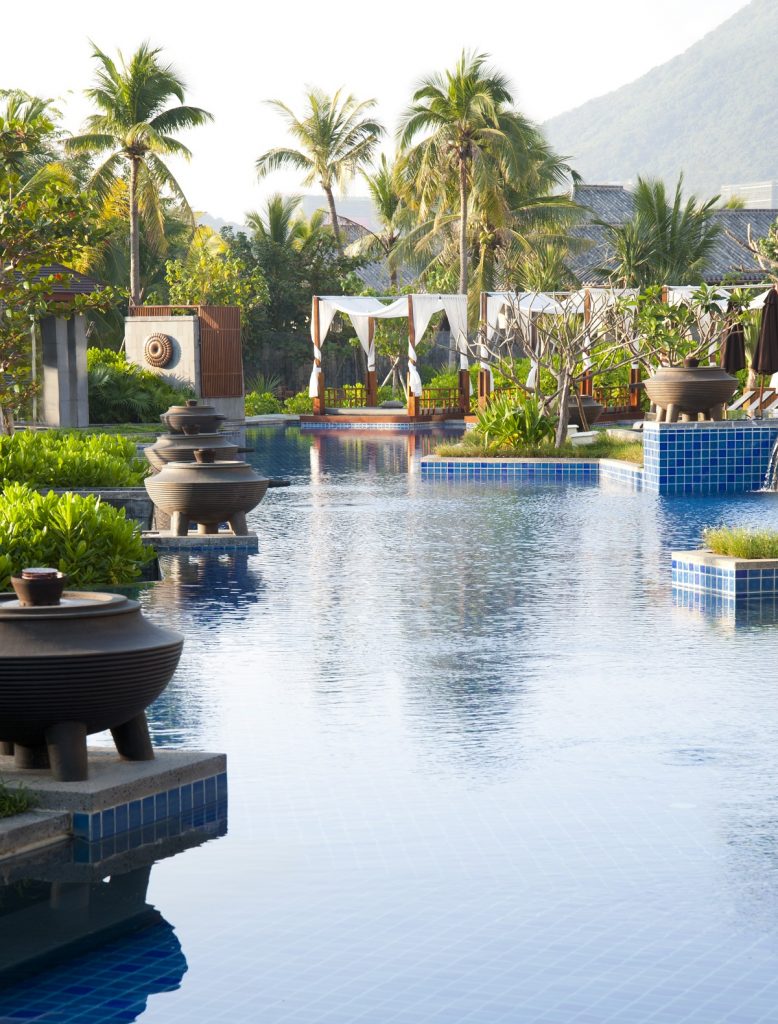 Where to eat
Chongqing Yingjie Eatery – While difficult to find, this restaurant is regularly hailed as one of the top seafood eateries in Sanya. Be sure to pay a visit if you love nibbling on all sorts of underwater creatures, you won't be disappointed.
MeiJie ChuanWei Seafood JiaGong – Enjoy prawns, fish, squish and more, straight from the market. This is another of Sanya's acclaimed seafood spots.
Baan Rim Nam by Anantara – Located adjacent to our Club Resort, Baan Rim Nam by Anantara serves up the most popular Thai food on all of Hainan Island. Treat yourself to authentic Southeast Asian delicacies while sampling combinations of new flavours.
Dolphin Sports Bar & Grill – Western food seems like a funny choice when in Sanya, but the Dolphin Sports Bar & Grill remains the most popular restaurant in the city thanks to its classic American fare, late-night party atmosphere and fantastic cover bands.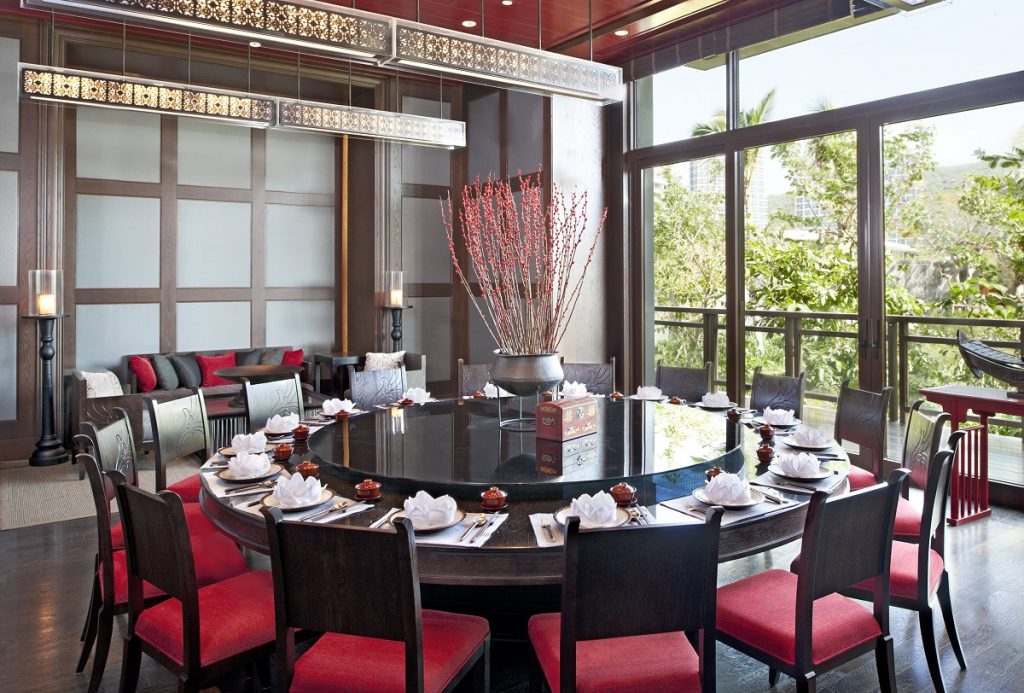 Getting there
Sanya Phoenix International Airport operates flights to and from most major Chinese cities, as well as international flights to Taipei, Hong Kong, Singapore, Busan, Kuala Lumpur, Ho Chi Minh City, Seoul, Bangkok and Kuala Lumpur. Trains from Beijing, Shanghai and Guangzhou are also available – although some of these take up to 36 hours!
Where to stay
Located 25 minutes by drive from Sanya Phoenix International Airport and 15 minutes from the heart of Sanya City, Anantara Vacation Club Sanya is a haven of luxury nestled between sandy beaches and scenic mountains, providing a gateway to a variety of outdoor and cultural adventures.
If you are interested in learning more about how you can take advantage of the many benefits of Vacation Ownership or have additional questions about what you've read, please email feedback@anantaraclub.com
Follow our social media platforms for daily travel inspiration: Twitter, Facebook, Instagram and Weibo or explore #anantaraclub