It's no secret that the timeshare industry faces a less than stellar reputation. With various cases of dishonorable business practices having made headlines around the world in the past, it can occasionally seem as though others' poor decisions have pitted the general public against the leaders paving the way for change, improvement and widespread satisfaction within the industry.

As a company who stands behind the flexibility, convenience and value of purchasing a timeshare ownership, we figured it was high time to debunk five of the most common myths that plague the industry we so deeply support and believe in. After having done our research and digging, here are the most frequent concerns that our audiences within Thailand, China and Japan express about the concept of long term vacation ownership.
1. Timeshare resorts are always full and offer limited availability
Much like traditional hotels and resorts, demand during peak periods and holidays such as Chinese New Year, Christmas and Easter is especially high, often leading to heightened occupancy at Club Resorts throughout these times. As a solution to this demand, we allow Club Points Owners to book their stays up to 18 months in advance, depending on their Ownership tier. They can then enjoy a greater selection of location and accommodation type when booking their stays ahead of time. Demand throughout non-peak periods and low season is, of course, greatly reduced – offering plenty of opportunity for Club Points Owners to make use of shorter booking windows or indulge in last minute getaways.
We understand that travel plans can easily change and that not everybody can adhere to plans they've made a year in advance. We allow for all reservations to be modified or cancelled without charge up to 14 days prior to arrival. In turn, if your first choice of destination isn't available at the time of booking, we recommend being flexible with room types or your selected Club Resort to help open up availability throughout your desired travel period.
As of January 2017, 77% of our Club Points Owners were able to book at their first choice of Club Resort location – regardless of when they chose to reserve their stay. 79% were able to secure access to their first choice of our Club Escapes destinations.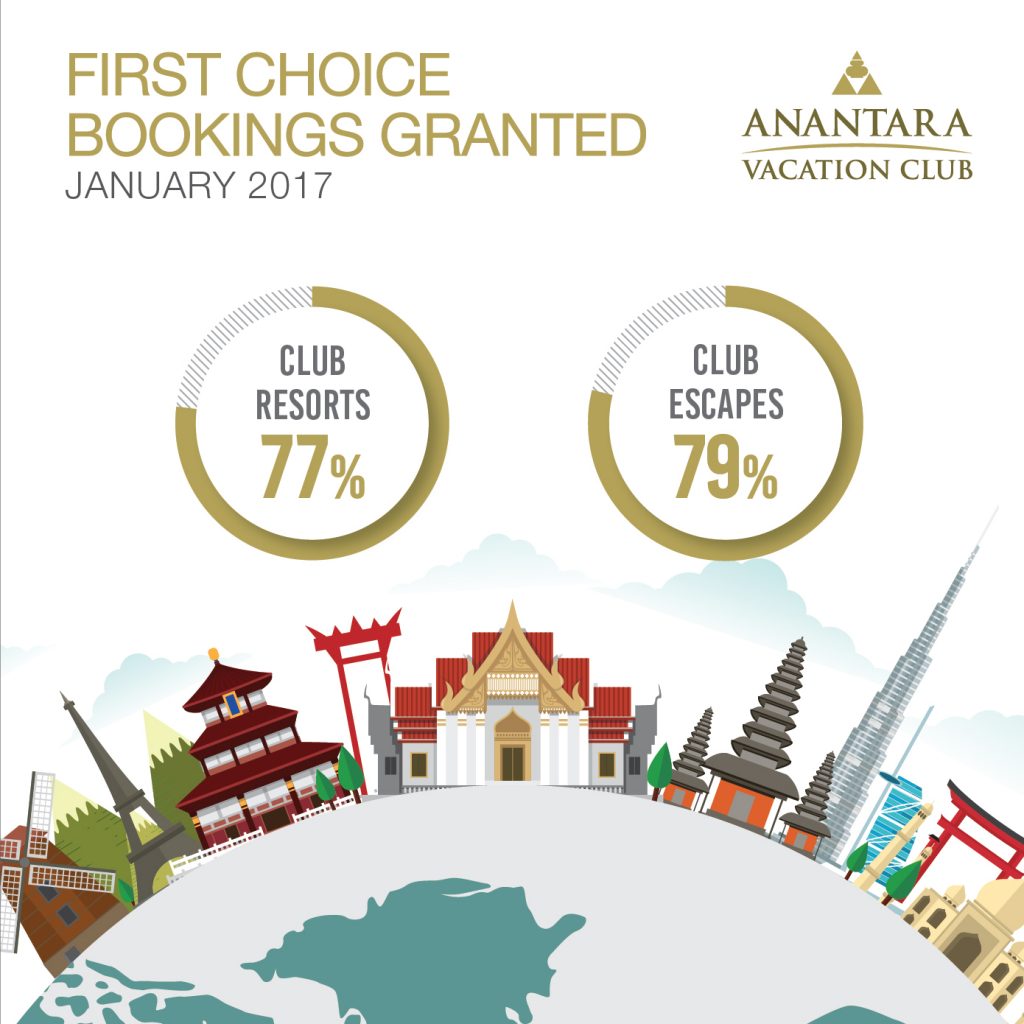 2. Timeshare companies don't provide as much value as they promise to

The true value of a Club Points Ownership is measured over time. Purchasing a Club Points Ownership allows you to holiday at today's prices for the lifetime of your Ownership. Much like everything else in life, the cost of vacations at traditional hotels and resorts is subject to inflation – typically at an average of approximately 5% annually.
Despite rising accommodation costs, the number of Points required to stay at a Club Resort will not change throughout the lifetime of your Ownership. For example, a night during low season in a One Bedroom Pool Villa at our Club Resort in Phuket will always cost 1300 points and that will not change over the course of your Ownership.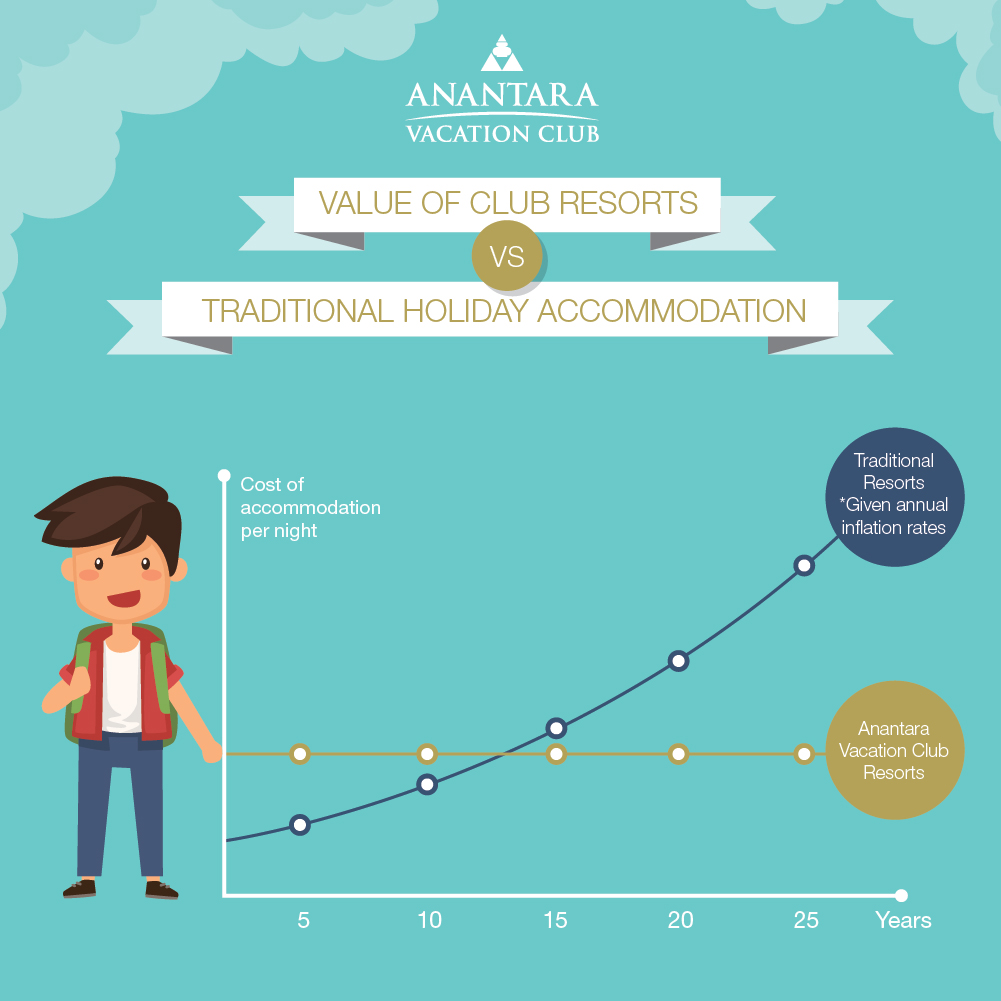 3. Timeshare owners are limited to visiting the same resorts over and over for the next 20 to 30 years
Anantara Vacation Club is rapidly expanding its existing Club Resort collection across Thailand, Indonesia, China and New Zealand, with a plan for further destinations within Asia and the Middle East to be added. In fact, we recently announced our first ever Club Developer inventory in Dubai – available to Club Points Owners throughout 2017. Essentially, as the Club continues to grow, so will its total number of Club Resorts.
For those hoping to branch out from vacationing at Club Resorts, eligible Club Points Owners have access to our Club Escapes and Global Traveller partnership programmes. These programmes enable eligible Club Points Owners to holiday at thousands of sought-after urban and beach destinations across the globe.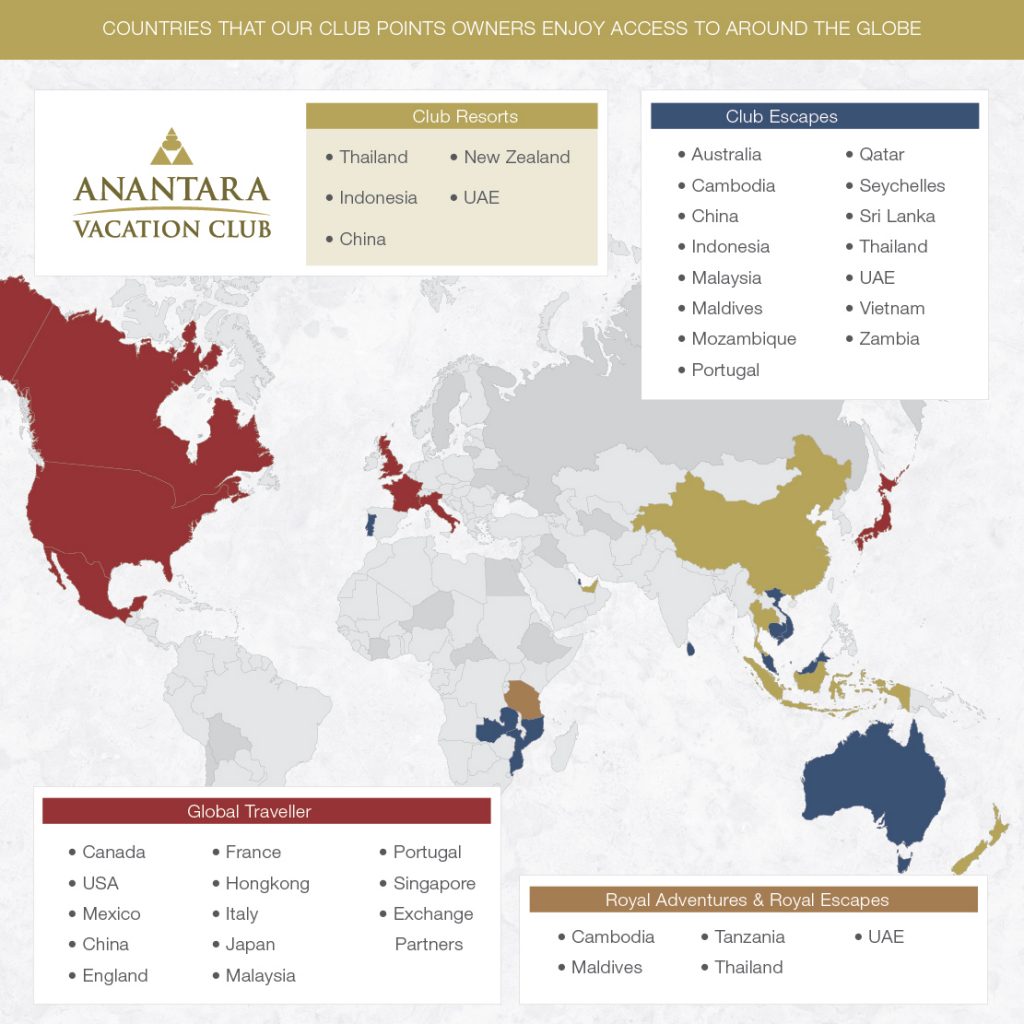 4. The after sales service provided by the timeshare industry is not up to the same standard as its pre-sales service
The key factor to note about after sales and pre-sales service is not that one is better or worse than the other, but rather that they are different. Prior to purchasing a Club Ownership, our Club Points Owners are in contact with our preview centre and marketing teams. These team members guide new Owners through a private tour of our Club Resorts and host a preview presentation for them.
After guests choose to become Club Points Owners, they then communicate with our dedicated Club Services and Owner Enhancements teams to book their vacations, make changes to their Ownership and more. These teams have successfully managed to deliver an overall Owner satisfaction score of 89% over the past year and are consistently finding ways to improve the level of service they offer.
Club Points Owners enjoy telephone, e-mail and live chat services in their choice of English, Thai, Chinese and Japanese to ensure that their needs are always met. Additionally, the Club has implemented a formal complaints procedure for problems that our Club Services team cannot solve whereby Owner are personally contacted by a dedicated team to resolve any issues they might have.
5. Timeshare companies can eventually go out of business, causing Owners to lose their investment
Our Club Resorts are held in a private, third-party trust which protects them in the event that the Club Developer experiences bankruptcy. This is to say that if Minor International went out of business, our Club Resorts would still be accessible by Club Points Owners as they are held by our trustee, not by Minor International. The Club would continue to run as the annual Club Fees that our Owners pay would fund the Club's operation costs and maintenance of the Club Resorts.
If you are interested in learning more about how you can take advantage of the many benefits of Vacation Ownership or have additional questions about what you've read, please email feedback@anantaraclub.com
Follow our social media platforms for daily travel inspiration: Twitter, Facebook, Instagram and Weibo or explore #anantaraclub