If your pre-travel planning involves buying an empty suitcase to be filled to the brim with the best deals you can find while on holiday, Phuket is a shopping destination that should certainly be added to your vacation bucket list!
Shopping is an essential part of the Thai lifestyle and is believed to contribute to keeping the economy moving. Visitors will regularly find open-air markets, shopping streets and air conditioned bazaars popping up across all of Thailand's cities, islands and rural areas.  Many of them are geared towards locals instead of tourists and provide a surprisingly wide range of innovative, high quality products. The Thai people love to exhibit their creativity, making it hard for even the most selective of shoppers to traverse the country's many shops and markets without stumbling across at least one (or ten) must-have finds.
Phuket stands out as an island destination where Thailand's shopping culture has truly reached new heights. As the country's most popular beach destination, it sees a high number of tourists year round for both its pristine shores and charming urban appeal. Guidebooks regularly rave about the Walking Street in the city's Old Town and the Weekend Market, but there are plenty of other options that rarely make it onto most tourists' radars.
We've gathered a selection of the best markets in Phuket to enjoy while shopping in signature Thai style – that is, mingling with locals while listening to live music and sampling hawker stalls all along the way. If markets aren't your thing, consider visiting our recommendations for boutiques packed to the brim with unique goodies and native Thai designs.
Bazaars and night markets
Chillva Market
 Opened in early 2016, Phuket's most popular local market is right in the centre of the city and offers a laidback, bohemian vibe to shoppers. Chillva Market features live music, tasty snacks, artistic performances and an amphitheatre for special events. The market is divided into three zones: a tent area selling local art, inexpensive accessories and homemade goods, hawker stalls serving up plenty of Thai street food, and a multitude of trendy boutiques housed in shipping containers.
Don't miss out on the two-story container bars and restaurants – they're the perfect place to grab a beer and chill out with friends. The renowned Holy Shrimp serves up authentic Cajun and Creole-style seafood and is a must-visit. Open from 4.00 pm – 11.00 pm, Thursday to Sunday 4.00 pm – 11.00 pm, Thursday to Sunday. The container section of the market is open daily from 4.00 am – 10.00 pm.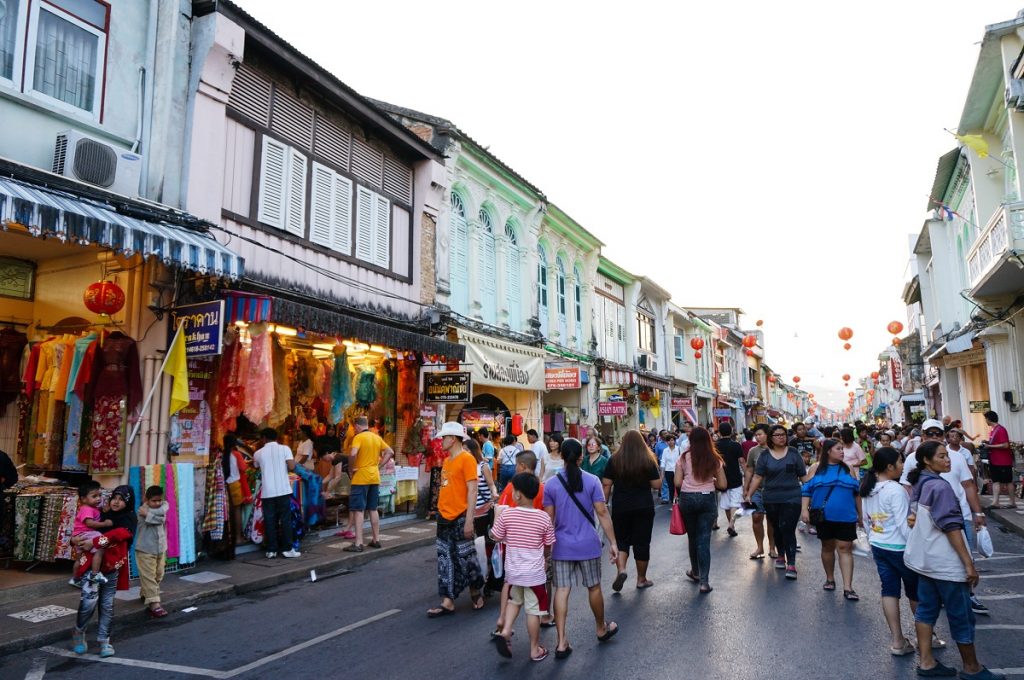 Phuket Indy Market
The Phuket Indy Market (also known as Lard Ploy Khong Market) is a small, cutesy destination geared towards a younger crowd. It fills a small street close to the wildly popular Lemon Grass restaurant, which serves Thai cuisine on Dibuk Road. Here you'll find more live music, clothing, handmade products, an abundance of street food and mostly non-alchoholic drinks at very low prices. It's where the local teens come to hang out and is open on Thursday and Friday evenings from 4.00 pm – 10.00 pm.
Malin Plaza, Patong
Known as a foodie destination, Patong Beach's Malin Plaza serves up an endless number of dishes packed with great taste. Picture yourself visiting stall after stall offering delicious foods such as Thai style grilled chicken, kebabs, spring rolls, crepes, ice cream and more. Eat until you're full, and you'll still barely make a dent in your budget! There's also plenty of fresh fruit available to bring back to snack on at your hotel. Located on Prachanukhro Road in Patong, the market is open from 2.00 pm – 12.00 noon daily.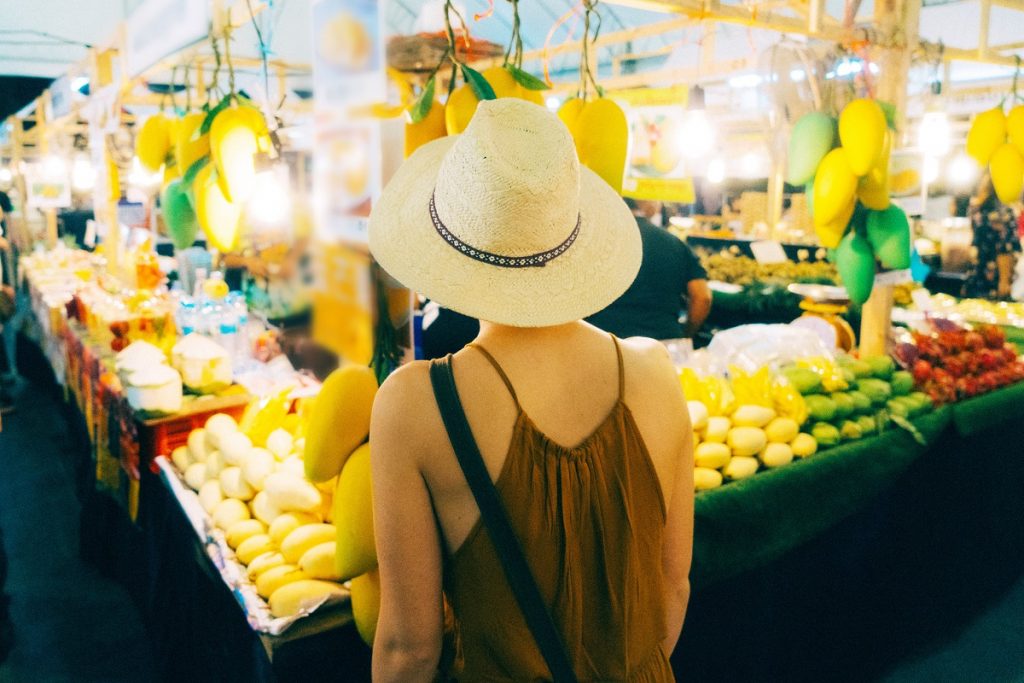 Expo Phuket
Hoping to beat the heat? Expo Phuket gives off a vibe reminiscent of Bangkok's famed MBK mall, flaunting an air-conditioned atmosphere and stall after stall of t-shirts, clothing, Thai souvenirs and handicrafts. While not as charming as Phuket's outdoor markets, it is the standout indoor destination that locals visit to shop for inexpensive finds and treats.
Charming local boutiques
"Kong fak" refers to the Thai tradition of bringing treats and goodies back from your holiday for loved ones at home, with the goal of showing them that you were thinking of them while away. As such, you'll find a high volume of shops scattered throughout Thailand where you can shop for "kong fak" gifts and share a little piece of your vacation with those you cherish the most.
If you're a fan of cashew nuts, visit the Sri Bhurapa Orchid Cashew Nut Factory – which is not so much a factory but a cashew boutique where you can sample and savour a variety of seasoned cashew nuts before purchasing a few cans to bring back with you.
If you're searching for valuable trinkets and have a penchant for all that glimmers, try the Gems Gallery Phuket, Phuket Pearl or the Phuket Seashell Museum and Shop, where you can pick up precious stones, pearls and shells.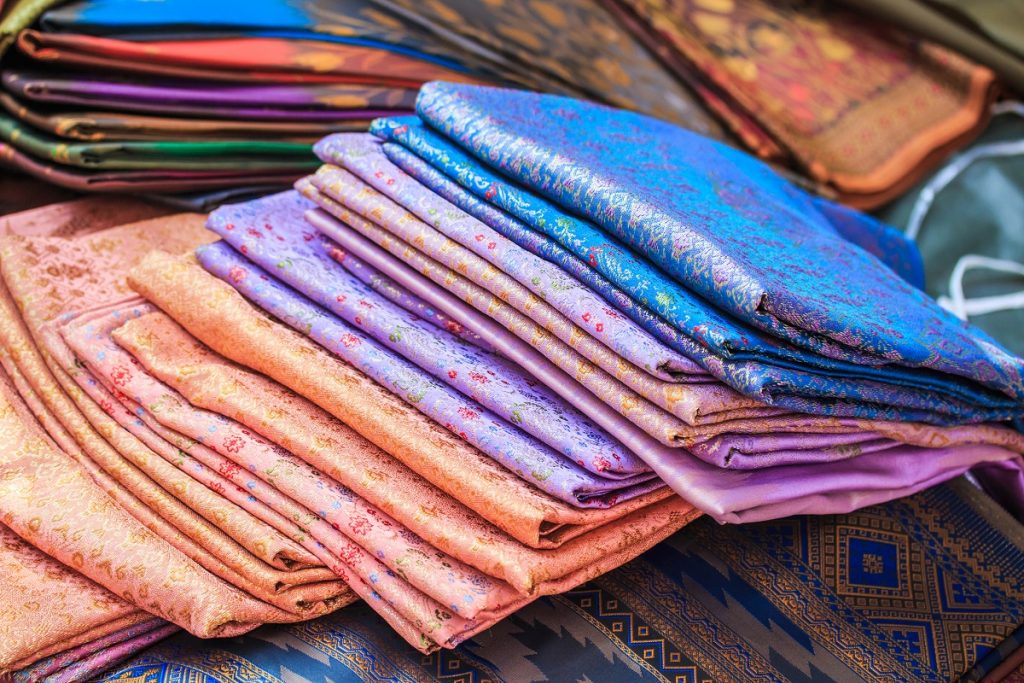 Meanwhile, art collectors and book lovers will swoon throughout a visit to the Art Heart Gallery in Patong, where they can purchase vibrant abstract paintings and a multitude of gorgeous coffee table books. Consider also spending some time at South Wind Books, a charming used bookstore in Phuket that sells an excellent selection of English books.
For those on the hunt for clothing and textiles, an outlet of the famed Jim Thompson Thai silk and textiles can be found on the ground floor of Central Festival shopping mall, as well as in four other locations throughout Phuket. Alternatively, get the suit of your dreams made at Piccolamoda Coffee Tailor – a coffee shop and tailor in one! Drop by from 8.00 am – 9.00 pm daily.
If you are interested in learning more about how you can take advantage of the many benefits of Vacation Ownership or have additional questions about what you've read, please email feedback@anantaraclub.com
Follow our social media platforms for daily travel inspiration: Twitter, Facebook, Instagram and Weibo or explore #anantaraclub